It's Been An Amazing 21 Years For Grace
Hang on for a minute...we're trying to find some more stories you might like.
After 21 years, this year will be Grace McCoy's last year at Centennial.
Over her time at Centennial, Grace has worked as a campus monitor and educational assistant. One of her favorite memories over her years was at a track meet. "It was a mess," she said. "It was pouring down rain and everyone was soaked." But the memory of everyone working, and suffering, together has stuck with her.
Centennial is "always a good place to be," she said.
Once she leaves CHS, she simply wants to enjoy life.  She has friends she wants to visit, and she'll go see some of her relatives that she hasn't seen in years.  But she simply wants to enjoy life after she retires.
Throughout Grace's work career, she has had many jobs such as a bartender, seasonal park ranger, security guard metro park ranger, and she even owned her own business. Her favorite job?   "I actually have two," she said.  "My favorite jobs were seasonal park ranger and metro park ranger because I love the outdoors and that was my workplace."
Grace had heard about Centennial and decided to apply because "I heard there was an opening and I was also encouraged to apply."  Twenty-one years later there are no regrets.
When Grace started at Centennial, she said that things were run differently. Eventually  things changed, but she sees progress that things are starting to come back like the way they were 21 years gao.  "It is almost like a cycle," she said.
Grace has a great amount of confidence in Centennial and thinks the school is going nowhere but up in the years to come. She says this because of everyone in the community.
"If someone needs a hand, someone will always be there to help out," she said.
Many in the Centennial community will miss Grace. While it is sad to see her go, many are thankful for what she has done for the school and wish her the best.
Senior Yoon Saechao said, "It's sad to see Grace go. She was a big part of this school and she made study hall an enjoyable class."
Senior Brandyn Dinh said, "I'm both happy and sad that Grace is leaving. It's sad because she did a lot for the school but I'm happy for her because she gets to get enjoy life outside of work."
Receptionist Shelley Johnson said, "I'm sad because I like Grace a lot. She will be hard to replace because she is strict, but kind, and that job is difficult."

About the Writer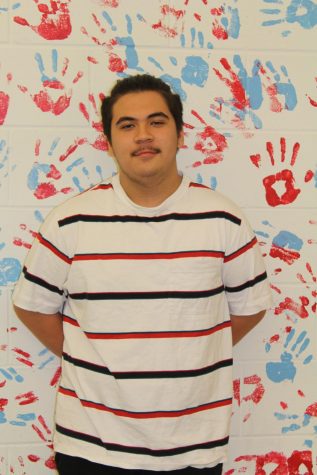 Cameron Chin, Staff Writer
Senior Cameron Chin is a hardworking student that makes sure everything is done before he takes his free time. Chin enjoys spending time with his friends and his family and loves to play basketball. He also love listening to music; his favorite is rap. He loves many sports and since he was born he has...