Volleyball Improves; Wins 3
Last Thursday's 3-0 loss at Clackamas wrapped up the career for seniors Caeley Stone, Gabby Foster, Alivia Jackson, Jasmine and Nicole Castaneda.  
"I think we were all satisfied with the it ended.  We know we all worked hard and gave it our best," said Jackson.
The Eagles finished 3-17 overall and 0-14 in league. The  three wins which is three more than the total wins from the last two years combined, so this was a season of improvement.  The last time that the CHS Varsity team made it into the state playoffs was before Coach Rob Olson even began to work with them.
Junior libero Hannah Bowlen said, "The season was good. It was definitely a strong change in community of my old school (Gresham) but I definitely enjoyed it a lot more."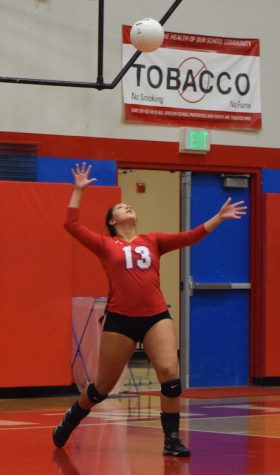 Considering the wins that the team made during the season this year she believes that, "It was nice to win a couple games even if they weren't conference games and I feel like next year we're gonna have to come badder and better."
Varsity Coach Rob Olson states that this year's team was much more talented that in past years.  
He said, the team is going to lose a few quality players in key positions and it will be up to the players next year to fill the positions.