Eagles Shock Central!
The Eagles football team has gotten off to a great start this season with a win-loss record of 5-1.  Their only loss came from the Oregon City Pioneers, who are currently ranked 8th in the state, but the team put up a fight with them as they went on to lose by only two points, 50-48.
The Eagles have proven to be one of the best teams in the state with last week's win against the Central Catholic Rams. "It was a very signature win against Central Catholic. They haven't lost a game in our conference in 43 games, and Centennial was also the last team to do it," said Head Coach Chris Knudsen.
The Eagles were actually down in the first half of the game, but quickly showed their resiliency in the second half to pull the upset. Other key wins include a 41-40 victory over the Newberg Tigers in the preseason, and also a win over Aiea (HI) which ended 35-26.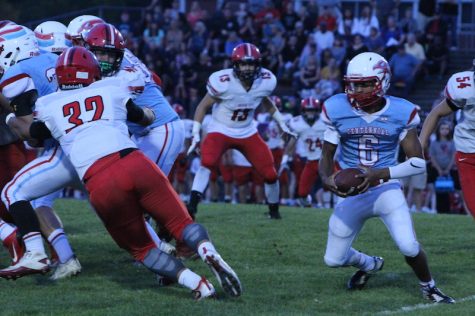 A lot has changed in the Eagles roster since the 2015 season with quarterback Trevor Thornton gone. Many thought it would be impossible to fill the shoes of Thornton, but Senior quarterback Mychael Kane has gone on to prove many wrong and is currently leading one of the best teams in the state.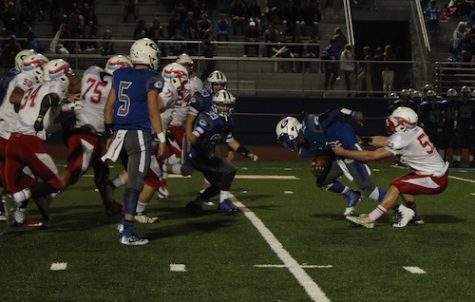 "Oregonlive said that it'd be a miracle for us to finish higher than fourth in the conference and we've been motivated to prove everyone that we have what it takes to be the best," said Kane on being an underrated team in the pre-season. The team now has a lot of confidence and looks to improve on last year's  6-3 record.
"Last year we just weren't as confident due to only winning 3 games in 2014, and a lot of people doubted us going into last year. This year we knew that we could be a top contender and took all the doubt as motivation to prove the state wrong, and I think we proved that by beating Central Catholic," said senior Tyson Regimbal.
The team still has three games left in the regular season in which they plan on winning out against; Barlow, Reynolds, and Clackamas. Their next game is 7pm Thursday night against the Barlow Bruins. They now fulfill the 10th spot in the statewide rankings, and continue to shock the state each and every week.