UPDATE – November 2021 – FBLA Club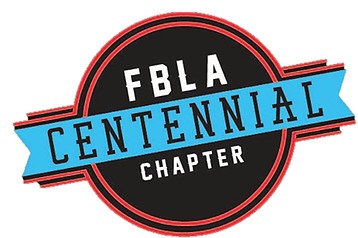 As a writer I am often told what to write about in the school newsletter, but this time I was given an assignment I knew very little about, the FBLA club at CHS. I interviewed three people involved with the group on my quest to not only meet my quota in this class, but also to find out what the FBLA club is all about. My first interview was with Mrs. Hardin, and she had this to say.
Q1: So first of all, what does FBLA stand for?
A1: Hardin: "It stands for Future Business Leaders of America."
Q2: What is the goal of FBLA?
A2: Hardin: "Bring business to education and give schooling leadership opportunities."
Q3: How does one join the FBLA?
A3: Hardin: "We have meetings every other Wednesday. There is a 45 dollar fee that goes to state and national dues."
Q4: Do you guys have a website?
A4: Hardin: "Yes it is Centennialfbla.com and we have social media- @Centennial_FBLA"
I then went on to have an interview with "La Presidenta" herself, Adabell Martinez, and the 16 year old junior had this to say.
Q1: Ok first of all, how did you become president of the FBLA?
A1: Martinez: "Well I am one of the only upperclassmen, and I went to state and got 2nd both times."
Q2: What has the FBLA done for you?
A2: Martinez: "It has helped me realize my love for business and marketing."
Q3: What is your favorite part of the FBLA?
A3: Martinez: "It gives a sense of community and family. Also I enjoy the aspect of learning things that can help my future."
Q4: What are your thoughts on people joining?
A4: Martinez: "We need more people and we try to strengthen our recruits' weaknesses and sharpen their strengths."
I then interviewed Mr. Miller who in fact attended CHS! This is what the former Eagle had to say.
Q1: What role do you have in the FBLA?
A1: Miller: "I am the Co-advisor with Ms. Hardin."
Q2: How did you get involved?
A2: Miller: "It was part of the curriculum of the subject I teach."
Q3: As a former CHS student how do you feel about how things are going with the FBLA?
A3: Miller: "It's been hard to see the opportunities like FBLA for the children go away because of COVID, but we are gaining our pride and culture back."
Q4: What are the plans for the FBLA in the future?
A4: Miller: "Grow the program and business leadership class and to promote and provide a robust school culture."
And so concludes my journey to gain knowledge on the FBLA club. And though it may not be for me, I have found my calling in the Talon office. I can say with certainty that FBLA is a group that is and will continue to go places!