"The Menu" Review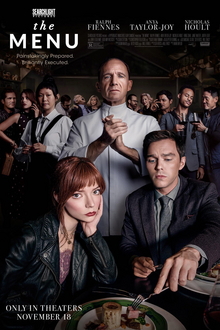 If you enjoy dark yet comedic movies, "The Menu " just may be the movie for you! "The Menu" is a Rated-R horror movie directed by Mark Mylod, and written by Seth Reiss and Will Tracy. The film stars actors such as Anya Taylor-Joy, Nicholas Hoult, and Ralph Fiennes.
The film begins with a group of rich, wealthy people entering on a private jet, on their way to a privately owned island to dine at an exclusive restaurant, known as "Hawthorn." Hawthorn is both owned and operated by celebrity chef, Julian Slowik, (Ralph Fiennes.) The guests are served dishes varying from raw oyster, to chicken tacos. However, as each course is served, the guests are given absurd and unsettling descriptions for each dish, as well as revealing scandalous truths about each guest. As the film progresses, things only escalate further. The guests soon realize that it is a death trap with no way to escape, and the guests must accept their fate.
Although there are certain points in the film which make you feel unsettled, the film does not linger on the violence portrayed. In fact, that is what I enjoyed most about "The Menu." The film does not require frequent violence or gore to be seen as "unnerving". It's the dialogue that makes this film frightening. For instance, the dialogue can make you feel agitated and intrigued all at once. "Over the next few hours you will ingest fat, salt, sugar, protein, bacteria, fungi, various plants and animals, and at times, entire ecosystems. But I have to beg of you one thing. It's just one. Do not eat. Taste. Savor. Relish. Consider every morsel that you place inside your mouth. Be mindful. But do not eat. Our menu is too precious for that."
Behind the scenes of "The Menu" was just as fascinating as the movie. Michelin star chef, Dominique Creton even assisted in designing the dishes shown in "The Menu." Ralph Fiennes was also given a behavioral demonstration on his body language in the kitchen from Creton as well. In preparation for the film, Nicholas Hoult, who plays the role of an extreme foodie, made sure to dive into the culinary experience. Hoult watched different culinary shows, and went to different restaurants in preparation. "We went to The Fat Duck, Heston Blumenthal's restaurant in Oxford, which was an amazing experience," Hoult mentioned.
Overall, I found this movie to be both thrilling and sinister all at once. However, there are scenes with violence. If you are sensitive towards violence, I would not recommend watching this film. Anyhow, if you would be interested in watching "The Menu", it is currently streaming on HBO Max, Prime Video, and Spectrum TV.