Lost Girl Opens This Weekend
It is time for the CHS fall play and this year it is "Lost Girl".  The play premieres on November 7 and is also playing on November 9, 14 and 16.  The shows begin at 7:00 pm. Tickets are sold the day of the show at a cost of $10 for adults, $8 for people under 18 and for senior citizens and $5 for CHS students and staff.  This play is directed by Kellie McCarty and it will be the first time that "Lost Girl" is being performed on any high school stage in Oregon.  
"Lost Girl" is the epilogue to the story of Peter Pan, Wendy and Neverland.  This play is about how after returning from Neverland, Wendy wants to find Peter to reclaim her kiss, and move on.  On her journey, she finds other girls who went to Neverland and learns that she is not the only one. "Lost Girl" is a coming of age adventure of lasting loss, first love and about the girl who had to grow up.
In the play Wendy is played by Beatrice Byrd, Wendy's counterparts, A, B, and C, are played by Maggie Redden, Jessica Cabrera and Kendall Hemmer. Those three are also featured playing Cora as Maggie Redden, Callie as Jessica Cabrera, and Krista bas Kendall Hemmer. Nina by Alexis Young, Mother by Dahiro Nassib, Peter by Victor Hampton, Slightly/Boy by Jed Simmons, Detective/Nibs by Morgan Bass, Doctor by Shine Sarkkinen, Therapist by Simone Willingham, Curly by Daniel Scheese, Toodles by Mariah Clouse and the student directors are Mary Dejeu and Akasha Benke.
Byrd was asked how she liked the play and being a part of it.  She said, "I really like the script and I'm learning something new every time I read it.  I love the cast. They are really fun and I enjoy working with them. The play has a lot of creative freedom in it, which I also enjoy."  McCarty chose the play was asked how she enjoyed directing "Lost Girl" and why she chose to do it. She said, "I have enjoyed doing this play and I think that it is important to do this one in particular.  It is about self discovery and is a relevant topic. It really speaks to a lot of people and shows them to be true to themselves."
About the Writer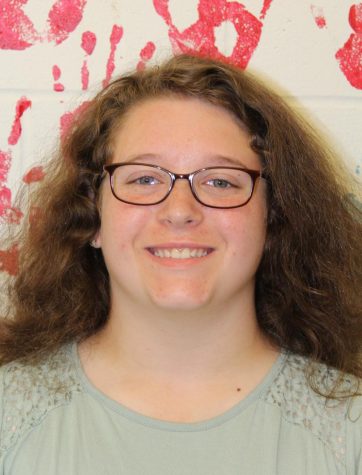 Madison Sternoff, Staff Writer
Madison Sternoff is a junior at Centennial High School.  It is her first year on the Talon. She loves to write which is what brought her to decide to...