Bill Franzke Suffers Sever Injury, Son Luke Provides Updates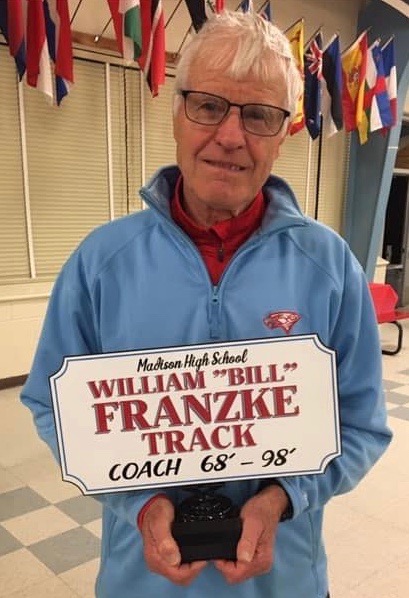 Bill Franzke, a former Madison High track and cross country coach and assistant CHS Track coach, got into an accident during this past summer that will forever change his life.  
According to his son, CHS teacher and track coach Luke Franzke, the 76-year-old was mountain biking in central Washington on August 7 with his wife, Kris, and some others.  While riding on the gravel path, he was focusing more on the ground than what was ahead of him. All of a sudden he was thrown from his bike onto his neck and head, paralyzing him from the chest down.  
He had hit a four foot high fence and went flying over it, leaving his bike on the other side of the fence.  When he hit the ground he fractured his neck in two spots. When he tried to get off the ground, he realized just how hurt he was when he couldn't move.  He was life flighted to Harborview Medical Center in Seattle where he had surgery to address the fractures in his neck. He was in critical care for a while and spent two weeks in the Intensive Care Unit (ICU).  
Bill Franzke is currently in the Harborview Rehab Center for his spine.  He is working on getting mobility back in his arms. He uses an automatic wheelchair, but he has not been able to return to Portland yet.  A GoFundMe page (link at the end of the article) has been set up for him and it has raised over $20,000 already. People can support him and his family by donating.  He continually is getting support from his wife, son and former mentees, said Luke Franzke.
Luke Franzke has been using his Facebook (link at the end of the article) to make updates on how his father is doing and the process that he is going through.  It has over 1,000 followers. He has been helping his mom out more recently and makes lots of trips to Seattle. Luke Franzke talks about how he feels after the accident.  "It's overwhelming and difficult, but we keep going. There has been so much support that everyone has been giving us." It has been hard for Luke Franzke to go about his everyday duties while constantly thinking about his father.  He says he has been staying positive about it all though. "Things have been put into perspective and things that mattered before don't matter now." These recent events have made it difficult to balance work with going to Seattle and helping his mom.  The unknown time frame of it all makes him uneasy. He doesn't know when his dad will be released, when he will be allowed to come home and how everything will work when he finally gets to come home. The constant support that people have given his dad has really helped him get through all of it.  
People can donate money to Bill Franzke and his family using this link:  https://www.gofundme.com/f/coach-bill-franzke039s-spinal-cord-injury-fund?rcid=r01-156858683738-bb712f51d4624f36&pc=ot_co_campmgmt_w&fbclid=IwAR05ZyDJrtKJbn-qSRHntxMZ3tqu-0o4lvfQT04AUabnD3Os_P1-M6qlv1U 
Luke Franzke's Facebook updates can be accessed and followed using this link:  https://www.facebook.com/groups/442858306565367/