Receptionist Shelley Johnson Retires
Receptionist Shelley Johnson joined the Eagle family in 2001; before that, she worked at Harold Oliver.
On the school changes over the years, Johnson stated, "There's been a lot of changes since I've been here."
She has tons of favorite memories of students over the years. She remarked, "I love working with you kids. I (also) love going to Prom and Formals and seeing them all dressed up."
She also has extensive family, "I have two daughters, five grandkids, and one great grandkid; and I have two of the best son in laws in the world," she said.
She's going to miss the interaction between kids the most. "I plan on coming in and helping my daughter Sasha Johnson at school, volunteering, and maybe dog sitting," said Johnson.
"Leaving you guys is gonna be the hardest," she remarked.
Words of wisdom for the staff include, "Never judge a book by its cover."
"I will miss her, we have lunch together everyday. I will miss laughing together at lunch, and (sharing) girl secrets. It's been so much fun to work with her," said Principal Secretary Tami Burton.
"We've had a lot of laughs and a lot of tears and a lot of random dance parties. I've enjoyed watching her being so caring to families and students," said Burton.
Security Guard Brian Grose said,"I'm gonna buy Shelley a dune-buggy flag when she retires."
"I hope that Shelley pursues stand up comedy after retiring from CHS. I can't count the number of times I've overheard Shelley talking loudly behind me and her one-liners about anything (that) completely crack me up," said Attendance Secretary Lena Franco.
Greg Melvin, Dean of Students, said, "It is hard for me to imagine CHS without Debbie and Shelley. For the past 20 years they have been on the front line dealing with all of the crazy things that take place in the Main Office. They are outstanding co-workers and have had my back in a lot of rough situations. What stands out to me though is how much they care about the students, staff, parents and families in the Centennial Community. They have been greatly supportive of my family and myself through good times and bad. There are thousands of students over the past two decades who would say the same thing. Debbie and Shelley will be greatly missed!!"
About the Contributor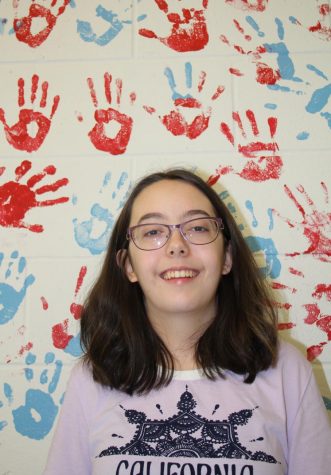 Daniella Young, Editor-in-Chief
Daniella Young, 17, is a senior and is excited about her second year of advanced journalism. She took Beginning Journalism her freshman year, and loved...