Girls Tennis Districts 2019 *POV*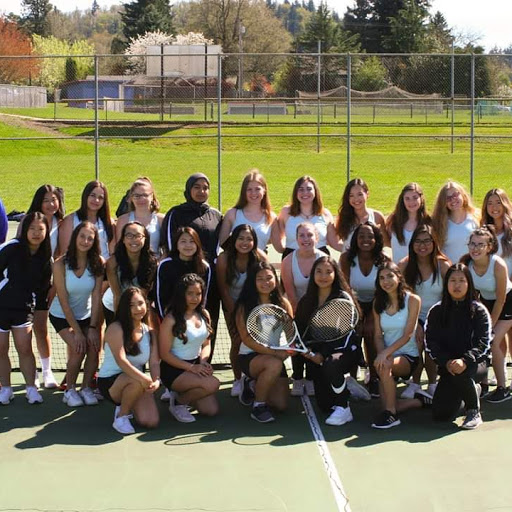 The time had come, after months of practicing and running drills, districts had finally arrived. We started the day in our coach Ben Peterson's classroom eating breakfast burritos and watching tennis videos. From there, we began to talk about the bracket and who our opponents would be. Once we all had full bellies, we went down to our damaged courts to squeeze in a couple more hours of practice.
By noon, the time had come for us to leave for the Mt. Hood Community College tennis courts. The moment I stepped out of the bus and onto that campus ground I realized that this was going to be a day I would remember forever. Left and right there were girls practicing there strokes and hitting volleys, some in ways I had never even seen before. One thing was for sure, if I was going to make it through districts, I would have to give it my all.
First up was singles, so my partner, Miki Moua, and I watched our first singles,  Zahra Khalid, fight against fifth seed, Madison Krening. Miki and I were at the edge of our seats as the ball went back and forth between Zahra and Madison. Unfortunately, because Zahra was fasting at the time she was unable to drink water during the match. They had come to a draw and were getting ready to start their third set when our coach Peterson went up to Zahra and asked if she was willing to break her fast so she could finish off this match, but as much as  Zahra was determined to win, she was even more determined to not break her fast. So, Zahra decided to make the tough decision to forfeit her match, allowing Madison to move on to round two.
Before we knew it, it was our turn to fight the battle for second round. Conditions were much worse by this time with a temperature of 80o F and not a cloud in the sky. What made it even worse was that because there were no clouds sometimes the ball would be at just the right spot that the sun would make it completely invisible and nearly impossible to return. With an incredible amount of persistence and teamwork Miki and I won a very close match, two sets to one. We made it to second round!
By this time, all Miki and I could think about was how much we wanted to eat some food and take a nice long nap.  Not too many minutes later, Peterson came up to us and told us that we were on deck to play our next match due to a scheduling conflict. With some reluctance we grabbed our gear and headed back to the courts to play our second match of the day.
Things started off kind of shaky during warm up, due to how tired Miki and I were from our previous match. After losing the first set we knew it was time to step up our game and play more aggressively. With a few pep talks from our couch and some great serves/volleys Miki and I were able to win the second set bringing us back to the dreaded third set, duh duh duh.
We were now the last ones on the court and our teammates had gathered around to watch this very intense match. Back and forth the ball went, along with the endless amount of running and chasing to return it. The match seemed to draw on forever when I had begun to feel a sharp pain in my head and a roar in my stomach telling me to stop playing, but I pushed on as best I could. Sadly, Miki and I lost the third set.
Tears streamed down my face as we walked off the court, dreaming of what could've been if I had not felt so horrible during the end of the match. My parents, teammates, and coach all came up to Miki and I to congratulate us on what a fantastic job we did, despite the outcome of our loss. All I could think about at this time was how horrible I still felt and how badly I wanted to get home.
The ride home was miserable as I was knocking in and out of consciousness and trying to keep my focus on something other than my stomach. I had thought about the day and the match I had just played, replaying points in my head realizing how much I had grown as a player this past year. When I had finally gotten home that was when the storm hit.  I chundered, I up-chucked, I blew chunks, I spewed, but it was all worth it because I knew deep down that I gave it my all, literally. With a valiant end to my districts I moved forth to a new challenge, AP testing.
– Lineup –
Singles – (1) Zahra Khalid (2) Mary Karam (3) Edith Misak (4) Florance Hazrati
Doubles – (1) Sarah Lee & Olivia Harms (2) Kelly Tran & Irina Borovskiy (3) Christa Pierik & Miki Moua (4) Louise Kim & Ernella Lumanglas
– Made it to 2nd Round –
Sarah Lee & Olivia Harms
Christa Pierik & Miki Moua
Louise Kim & Ernella Lumanglas
– Made it to 3rd Round –
Sarah Lee & Olivia Harms
– Alternates for state – (5th in Conference)
Sarah Lee & Olivia Harms