Franzke Invitational Named After Coach's Dad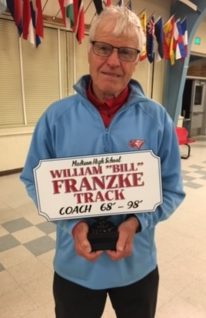 Hang on for a minute...we're trying to find some more stories you might like.
Centennial Track had yet another meet and that means new results. Last week's (April 5, 2019) meet was the Franzke Invitational @ Madison. This meet was in honor of Luke Franzke's dad, Bill Franzke, who was a long-time coach at Madison.
"It was awesome, you know. It was a honor to present him a sign for his track and it was the last track meet at that stadium," said Luke Franzke.
To see results please visit one of two sites listed down below:
https://www.athletic.net/TrackAndField/meet/349640/results