Portland Has Some Must See Destinations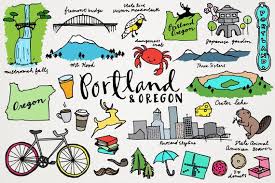 I grew up in portland Oregon and most of my free time I love exploring my city and find amazing new places to visit. Whether you're visiting portland for a short time or you've lived here your whole life, here are some of the best things to do (some cheap, some not so cheap) to ensure your time in Portland is never boring.
Number 1:  Powell's Books is my favorite bookstore ever. It's just one of those great Portland institutions that you must see. Want a book? Giving a book? or Selling a book? Powell's is the place to go. If you've ever read a story that moved you, you'll fall in love with Powell's where helpful staff will guide you into the correct color-coded room to help you find what you want. The adjacent coffee shop let's you peruse your find while sipping a cappuccino.
I definitely give this place 5/5.
Number 2: Portland Farmers Market. This outdoor market is open every Saturday of the year, rain or shine. Even if you're not grocery shopping, it's worth a visit for the music, people watching and tasty food—the wood-fired pizza from Taste Bud is my favorite.
3/5 recommended.
Number 3: Visit the International Rose Test Garden. Who knew there were so many varieties of roses? This park is free to enter, and you can wander around breathing in the lovely aromas of roses in bloom. This place is perfect on a summer night for a picnic with friends. I highly recommend this place for everyone 5/5. This is one of the most popular things to do in Portland, so depending on the time of year and day of the week, it can get quite crowded.
Number 4: Hike in Forest Park – Forest Park is the largest urban forest in the United States. So many great trails that really allow you to surround yourself with the trees, moss, and  wildlife. Just be sure that you say "hi" to people you pass on the trail. It's kinda what we do here. what we do here.
Number 5: Pip's Original Doughnuts hands down one of the best doughnuts I had ever tried. The doughnuts are freshly made, soft and flavorful. There most popular flavor and my personal favorite is the dirty wu and raw honey. The atmosphere is warm and cozy and with the smell of coffee in the air. Overall experience 5/5.
Number 6: The Portland Japanese Garden is a magical place. One could imagine sitting for hours in the garden, going from bench to bench and soaking up the quiet and calming order of the foliage and architecture. While the Japanese Garden is great, it isn't cheap, But it's definitely worth it 5/5.
Number 7:Multnomah Falls is the tallest waterfall in all of Oregon state.
Whether you're from Oregon or just visiting I definitely think everyone should go see it with their own eyes. Looking up at the 600+ foot tall roaring cascade of icy water is awe-inspiring to say the least 3/5.
Number 8: Tea Bar brews my favorite matcha latte in town, as well as unique tea drinks like pale pink beet boba and a black charcoal detox lemonade. If you're looking for a minimalistic and trendy environment then tea bar is for you. Although it is very popular in portland, Its not everyones cup of tea so i'll rate this place a 2/5.
Number 9: Waterfront Park one of the most visited and easily recognizable places in Portland. It is definitely a beauty, especially when the cherry blossoms are in full bloom in spring. Rate 3/5.
Number 10: Portland Art Museum is Definitely worth the price. I kinda rushed through the visit because I was short on time but I recommend setting aside a good chunk of your day for this. The museum is huge. There are specific sections of the museum dedicated to rotating cultures/categories, so keep that in mind. All in all, a must visit if you're in Portland 4/5.