Top 10 Netflix Movies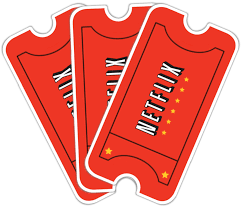 Searching and searching for movies to watch on Netflix can be very annoying and time consuming. Right before you eat dinner you want to find a movie but you can't eat until you find the right movie.  While you're finding the right movie your dinner is slowly getting cold. When you finally find the right movie your food is so cold you might as well have eaten it frozen. To help with this struggle here are the Top 10 Netflix Movies (recommended by personal opinion) Ordered from least recommended to must see movies.
 If you are looking for a movie that will put you in your feelings, a sweet romance "

Sierra Burgess is a Loser,"

is the movie you are looking for. Thinking he's talking to a gorgeous cheerleader this sweet jock sparks a virtual romance between him and… a wrong number? This sweet jock is really talking to a smart but not so popular teen. She falls for him but he doesn't know who she really is. How does she tell him she's not who he thinks she is?
 Like movies based in the future? "

What Happened to Monday

" is a movie that will keep you on the edge of your seat. The future has a strict one child policy but, what happens when six septuplets are born? These six kids have to being caught by the government while searching for their missing sister.
 Are scary movies your favorite? "

The Autopsy of Jane Doe

" is the movie for you.  I have never tensed up and cringed so much. A father son team from a small town performs an autopsy on an unidentified women with strange injuries and a terrifying secret. Survival is not an option.
 A romantic movie that can put you in your feelings. When he escapes the bus accident that killed his girlfriend this high school student channels his grief into running. "

1 Mile to You

" is a sweet movie.
 A movie I was too scared to watch when i was little but just recently actually watched it "

Coraline"

is a great halloween-ish movie. Curious young Coraline unlocks a door and is transported to a universe that strongly resembles her own just better.
 Now I know cartoons aren't really the type of movies you wanna watch but I guarantee you that "

Coco"

is a sweet one. On Días de los Muertos young wanna be musician Miguel crosses into the afterlife on a quest to meet his ancestors and to understand his family legacy.
 Survival movies are a MUST. This movie went viral as a meme and as a "highly recommended movie" it's not worth the hype everyone on social media gave it but it deserves a place on this list. "

Birdbox"

is based in a 5 year span. Under a presence of an mysterious presence a survivor and her two kids are desperate to reach safety. Whatever you do just… don't… look…
 Feeling sad once again? Want a movie to make you feel even worse? Please watch "

Charlie St. Cloud

" this movie really made me cry my eyes out multiple times, Charlie and his little brother Sam get into a car accident and Sam dies on the scene Charlie plays baseball with Sam's ghost. Sad right! It gets worse but I'll let you see that for yourself.
 Leo and Johnny will always be tied for my second favorite actor. Their role in "

What's Eating Gilbert Grape

" was spot on. This movie is about Gilbert (played by Johnny) who has to take care of his mentally ill brother (played by Leo) after their mother dies while slowly falling in love.
Spot #1 goes to "Forrest Gump" This movie will always be my favorite movie. Tom Hank is my all time favorite actor. Basically Forrest was raised with leg problems and always got bullied because of it. He met this sweet girl named Jenny. He fell in love with her the moment they met. They were best friends all through elementary school and high school. When they grew up they grew apart. Forrest went into the army and the movie is based on his experience in there He met his best friend Bubba. Bubba had a goal that once he left the army that he was going to start shrimp company called "Bubba Shrimp Co" Sadly Bubba died in the war. When Forrest finally gets out he goes to confess his love for Jenny. He also starts a shrimp company called "Bubba Gump Shrimp Co." So freakin sweet right! This movie is action and romance all in one!