Weight Room Makeover Lifts Spirits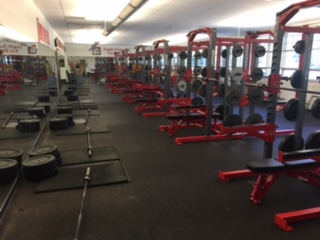 The new school year has brought a complete makeover to the CHS weight room and the response from the staff and students has been tremendously positive.
The remodeling occurred during the weekend of homecoming. The whole room was stripped of of its old gear and replaced with about $28,000 worth of new equipment.
The funds for the weight room came from the District Health and PE Adoption. Every year certain departments are able to give funds to replace different materials such as text books, and PE equipment.
CHS has been trying to get the funds to remodel for years but due to its high price they haven't been able to until now. With the given finances CHS was able to work with Exercise Equipment Northwest that outfits equipment for high schools and colleges. PE Department Head Luke Franzke said, "Not only did this make the weight room more efficient, but also safer for the students using the equipment."
The new weight room will help our athletics program and PE classes immensely. It's been something that we have been working at for years, and I think we will reap the benefits of an updated weight room," said Athletic Director Brent Child.
"Without the principal to help advocate for us to use this for the weight room than it probably never would have been able to happen. Not only will this benefit the athletes in the weight lifting classes, but the culture of CHS," said Franzke.
This has truly been a major wellness goal that CHS has finally been able to achieve after many years of hard work.