Core Leaves CHS After 21 Years; Heads To Arizona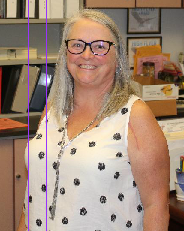 The 2017-2018 school year will be the last year ever that Stephanie Core will be working as the athletic department secretary.  She has been the athletic secretary for 14 years and has been in the district for 21 years.
Core, her husband, and her two children have all graduated from Centennial, and her grandchild just started in the district.  
Her daughter also graduated from Iowa state in 2005 on a softball scholarship.
Core plans on moving to Arizona and will most likely be retiring.  For now, she is going to move down with her family and help out with her grandkids.  "I'll be like their granny nanny," she said. "Driving them to school, making them breakfast and other things like that."
"I have mixed feelings-we've talked about moving to Arizona for 20 years, it's crazy that's now finally here," she said.
Coach BJ Basinski said, "It will be a big change since she's been here for so long.  It's going to be a huge adjustment for staff and students in the athletic department."
"I enjoyed having her at Centennial, she was such a nice person to have around," said Austin Walton.
Secretary Shelley Johnson said, "I've known her for what feels like a million years and not only is she leaving Centennial, but she's leaving the Centennial neighborhood and I will miss her very much."
Athletic director, Brent Child, has gotten to work very closely with Core over the past 13 years.  
He said, "It's a tough loss.  She's been in the office for a while and we'll be sad to see her go."
Core has been a huge part of Centennial High School and will be deeply missed.  She was loved by everyone in the athletic department and they are all wishing her the best in her next adventure.