Softball Loses At Jesuit To End Season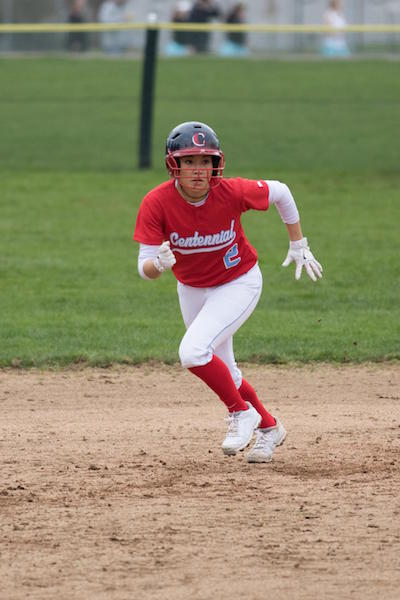 The softball season has concluded after a season ending loss in the first round of playoffs to the Jesuit Crusaders. Head coach Steve Baker reflects on the game,  saying "We had some great effort plays and made some exceptional defensive plays overall, but at the end we made a little more mental errors than them [Jesuit]."
Despite the loss, Baker calls it a "very successful year." The Eagles finished with a 13-13 overall record, a huge improvement over last year's 6-18 record. It was the best season the softball season had "In 5 or 6 years I think if some certain injuries didn't happen we would of won a couple more games," said Baker.
The Eagles star player junior Ashley Hawkins placed second-team in the all-league awards. Hawkins showed dominance throughout the entire season having a batting average over .400, breaking the Centennial all time stolen base record and helping her team climb into the playoffs.
Baker stated, "Her speed and agility is her best attribute. She led our team in almost all offensive categories; she put together a really solid season. The best thing about it is that she hasn't even reached her full potential."
Hawkins explains "I am proud of this team and the amount of heart and fight we displayed.  We worked really hard and I believe this group has high potential in years to come."
Other all-league awards include senior Jordan Payne with honorable mention OF, junior Hadley Cook received honorable mention for catcher, sophomore Charlotte Marcum with honorable mention for designated player/utility.
This team consists of many young players including freshman Trislyn Schmelling who explains, "We had ups and downs throughout the year and we created a great bond."
Schmelling describes her goal as becoming even more closer to the girls and ultimately winning the state championship. Another underclassman who made an impact was sophomore Charlotte Marcum who came down with an injury later in the season. She states, "The season went very well but we have a lot of untapped potential. We have more experience under our belt which always helps."
And experience they do have now as Baker explains, "Making the playoffs is very good as a freshman. They know the expectations now and they are set high."
Many of the softball girls play more than one sport and it helps them stay in shape year round. Baker will also keep in touch more with the players as last year the team was uncertain and varsity spots were up for grabs.
Centennial's softball program looks rejuvenated and is headed into the right direction. Though they will lose the  senior Payne, all the other key pieces such as Hawkins and Cook will stay put and look to display another dominating year in the next upcoming season.