Knudsen Stays Strong For 32 Years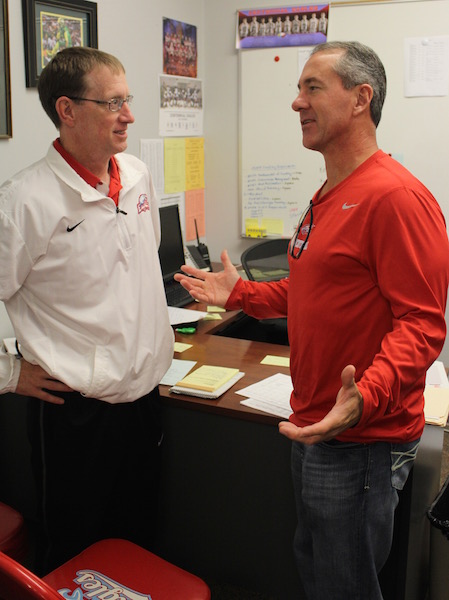 Head Coach Chris Knudsen has been with the football program for 32 of his 42 years as a high school coach.
Being loyal to the soil, Knudsen has been with Centennial despite plenty of opportunities to go coach elsewhere. He explains he wanted to set up roots for his kids to stay in the same district and just be stable. "I like the community, administration the kids here," he says. Knudsen believes his father who coached for Linfield College, instructed the loyal aspect in him, as he has had opportunities to coach at very high levels but stayed put.
Throughout Knudsen's Centennial coaching career, he has won a total of 158 games. However total wins have not played a significant role in his life because. "I like being around these kids, they are hard working," he stated.
The team records over the years, have been all over the place as he comments, "There are many variables that come into play that makes teams successful." It all starts with athletes getting involved in sports at an early age and doing it often. Knudsen and some other coaches refer to the record inconsistencies as a cycle. "Some years we'll be pretty good, but other years we'll struggle," he explains.
It all depends on the balance, a team can have great skill position players but lack offensive line productivity. The chances are the team will struggle, however having a good mix of everything is essential Knudsen refers.
Some of the best moments that pop into coach Knudsen's mind were beating Jesuit who had a couple of Division I athletes at the time. Other moments aside some big comeback victories include winning a big one last year against Central Catholic. "The kids we're jumping and screaming," shares Knudsen. Besides moments on the field, Knudsen says he really enjoys receiving phone calls or text messages from former players, thanking him of the hard work and discipline he taught them.
Overall Knudsen has enjoyed the journey so far here at Centennial and is looking forward to continuing coaching and being apart of all these young player's lives.