Football Finishes Disappointing Season; Looks Toward Next Year
The Eagle football season comes to an end suffering defeats in their last three games to Barlow, Reynolds and Clackamas. In general the offense failed to produce many points against Barlow, scoring only 6, however it wasn't slow as the Eagles constructed promising drives down the field but made simple errors in the red-zone–possessions inside the opponent's 20 yard line– to ruin the drive.
The Reynolds game took place at Mt. Hood Community College and included many "Three and outs [forcing the opponent to punt after 3 incomplete tries at a first down]," said Head Coach Chris Knudsen. The team would move the bull but couldn't finish.
The Eagles finished with a misleading overall record of 2-7 and a 1-6 league record.  Regarding the team, coach Knudsen stated, "Any other league and we would probably be in the top three… We have week-in and week-out difficult games."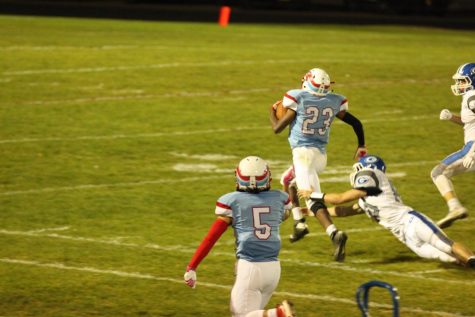 Knudsen emphasises the great improvement the team went through throughout the whole year. He is also eager to test out the new OSAA rule changing which allows coaches to workout with more than two players at a time. Knudsen explains he was "heavily involved" in the rule changing as it just didn't make sense for the sport of football compared to other sports.
"You can't have two lineman just going at it for too long before they get tired, as compared to basketball, where you have have two big-men workout on post moves for a good amount of time," explained Knudsen.
He also felt this year's seniors did a "good job" and had a "great career here. They were a part of some special moments." Seniors Koby Scheetz, Jadon Pickles and Jacob Beaty placed for 2nd team all-league while Andres Pinzon and Justin Funkhouser were awarded for honorable mention.  
Looking ahead the coach has very high expectations for next year but one thing isn't going to change as "the league is going to be really tough…teams have a good amount of returning players that happen to be playmakers," said Knudsen.