Girls Soccer Wins Play-In, Off To Playoffs at Sunset
The girls soccer season is starting to wrap up,with the team currently standing at an 6-6-2 record and ranked sixth in the Mount Hood Conference along with 31st in the state.
Through 14 games they have scored 33 goals and allowed 31 goals.
The Eagles ended up finishing with a 3-3-1 record in league play. They beat David Douglas 4-2, suffered a 1-0 loss to Gresham, won against Reynolds 3-0, tied Central Catholic 3-3, defeated Barlow 3-1, lost to Clackamas 1-2, and was beat by Oregon City 0-2.
Last night, Centennial beat McMinnville 4-3 at home to advance to the playoffs. The match came down to the wire, two extra ten-minute periods were played to decide the game. Coach Birkhofer was satisfied with the outcome of the game saying it, "Went great. It was a tough-fought game. We never gave up." Birkhofer was happy with the team making the playoffs, "Super proud of them for making it into playoffs,"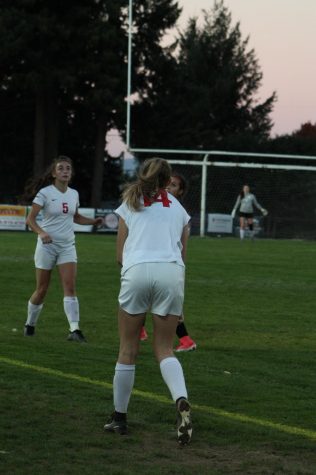 Senior Rebecca Wheeler, juniors Alyssa Ronnfeldt and Chloe Smith, and sophomore Sarah Nichols all contributed a goal each in the win over McMinnville. Nichols scored the go-ahead goal to win the game.
Birkhofer noted that goalie play in the first half gave up, "A couple mistakes that lead to goals in the first half." However, Birkhofer also was pleased with the goalie play of junior Bethany Dinh noting, "She made some super important key huge saves in the second half and overtime.
Earlier on in the season, Centennial lost 4-3 to McMinnville. Birkhofer noted that last time Centennial gave up a goal in the last 30 seconds to give them the win. She said one key difference between this game and the first matchup against McMinnville was, "We did a better job finishing a strong game. We played at our level the entire 80 minutes plus of the game. And we never dropped our level. "
Looking ahead, Birkhofer wants to focus on tightening up on the defensive side and limiting scoring for other teams. Birkhofer said, "We can't afford to give up so many goals.
On Saturday, October 28th Centennial will be playing in a playoff game at the second ranked Sunset Apollos. Sunset finished second in the Metro League behind first overall Jesuit. Through 14 games, Sunset has scored 37 goals and allowed 7 goals. On Sunset, Birkhofer said "They will be a strong team all over the field. I hope we have a strong defensive game and we can come out and compete with them."