MHCC Throws Wrench Into College Now Program
Ryan Ruuttila and Mike Henderson's AP Government courses and Ruuttila's Psychology courses are going to be undergoing some serious changes as they will no longer be offering College Now Credit through Mt. Hood Community College.
This means that students can no longer get the automatic credit from earning a C or better in the course and must pass the AP exam in order to earn college credit.
According to Zach Ramberg, assistant principal, an important MHCC policy was the main factor. "Annual renewals are subject to change," he said, meaning that every year, MHCC can either renew or not renew the policy connected to the programs.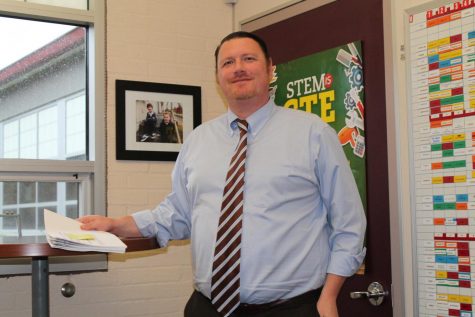 Young
Centennial got this information from MHCC at the beginning of September, which means that students didn't find out until they were already in one of the courses affected.   Students were offered the chance to change courses, but only a handful did so.
Despite persistent rumors,  Ramberg said AP exam scores have nothing to do with MHCC not renewing the College Now program in certain classes.
Ruttilla states that he was given a presidential waiver by MHCC years ago.  This allowed him to teach college level courses listed as AP even without having a master's degree in a certain subject.    
"I have my master's in Education, but not in a certain subject," said Ruuttila.  Therefore he is not automatically guaranteed the College Now opportunity.
Normally, at MHCC and at other colleges, teachers are required by the State of Oregon to have their Master's in the subject that they are teaching.  MHCC had not enforced this and instead honored the waiver, until this year's change.
Since Ruuttila does not have a specific Master's degree, MHCC can no longer award college credits to students who are taking AP Government or Psychology.  While very few students changed their classes this year, this could have an effect on next year's enrollment numbers.