Girls Soccer Defeats Second-Ranked Barlow 3-1 Last Night
The girls soccer season is beginning to wrap up, with the team currently standing at an 5-4-2 record and ranked second in the Mount Hood Conference along with 30th in the state.
Through 11 games they have scored 28 goals and allowed 24 goals.
The Eagles currently hold a 3-1-1 record in league play. They beat David Douglas 4-2, suffered a 1-0 loss to Gresham, won against Reynolds 3-0, tied Central Catholic 3-3, and last night defeated Barlow 3-1.
Coach Kelsey Birkhofer was ecstatic with the 3-1 victory over the previously-undefeated-in-league-play Barlow. Before the loss the Bruins were ranked second in the state. This loss dropped Barlow to a 8-2-2 record. Describing the win versus Barlow Birkhofer said the win was, "Amazing." She praised the effort of the team saying, "My girls played so hard and played their best game this season."
Against Barlow, junior Chloe Smith scored two goals and freshman Madison Kramer scored one goal.
Birkhofer said the key to the major win over Barlow was the defense, describing it as, "Playing awesome." Specifically, she noted the impactful defensive presence of senior Gabbi Nowodworski. "Gabbi Nowodworski marked and shut down their main scorer." She also was pleased with the goalie play of junior Bethany Dinh stating, "Our goalie Bethany Dinh had one of the best games yet."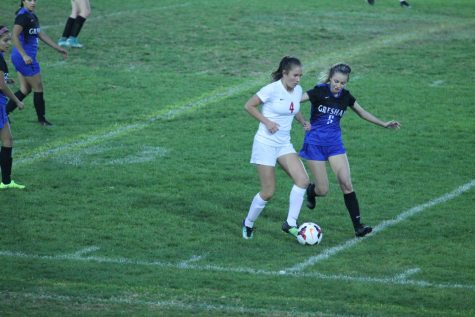 Coach Birkhofer is hopeful for the team's chances of making the playoffs. She said their chances will really depend on how they do in the next two games against Clackamas and Oregon City. If they don't get top four in league she hopes their rankings will be high enough to get into the playoffs.
Birkhofer knows where she wants the team to focus as the season begins to end. She stated the key to the rest of the season is to "Just taking it one game at a time. Continuing to play as a team. Focus on having a strong defensive game."
The next game will be Tuesday, October 17 at home versus Clackamas at 6 pm. They will be facing a Clackamas team that currently holds a 7-4-1 overall record and is ranked 9th in the state.