Volleyball Loses To Rams In Straight Sets
The varsity volleyball team lost to the Central Catholic Rams and Clackamas Cavaliers on Tuesday and Thursday nights this week.
It was a sweep for both teams, "We have a lot of room to improve like any other team," said senior captain Erika Zuel.
The Eagles had played the Rams earlier this season. "Compared to last time we played Central Catholic, we didn't connect as well and didn't play to our potential," said Zuel.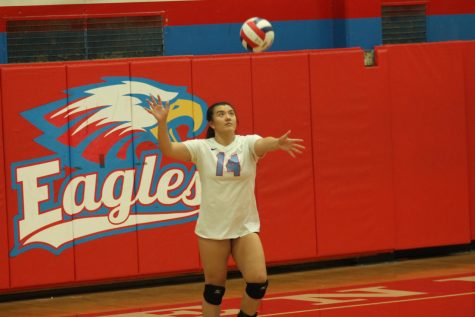 Although they didn't connect together, the back row was very consistent. Senior captain Rhyan Becker held the back row with a 2.43 passing average, which helped set up the offense.
Thursday night, the Eagles put up a fight against the Rams but were still defeated.  "We connected a lot more and just played our hearts out," said Zuel.
The back row did very well due to the connection between Bailey Becker,  Rhyan Becker, and Crystal Tat.
"They really had us the first half, but we competed and kept up with them," said Becker.