Girls Soccer Defeats Reynolds 3-0 Thursday Night
The girls soccer season is off to a decent start, currently standing at an 4-4-1 record and ranked fourth in the Mount Hood Conference. Through nine games they have scored 22 goals and allowed 20 goals.
The Eagles currently hold a 2-1 record in league play. They beat David Douglas 4-2, suffered a 1-0 loss to Gresham, and beat Reynolds 3-0 last night.
Coach Kelsey Birkhofer was pleased with the 3-0 victory of the Reynolds game. She said, "It went really well. We had control most of the game right from the start." Birkhofer was satisfied with the performance on the offensive side of the ball, "We were passing and connecting really well today. We had lots of opportunities on goal."
She mentioned how the goals were "great goals". Sophomore Sierra Pinheiro, senior Gabbi Nowodworski, and junior Kaylinn Lawerence each scored against Reynolds.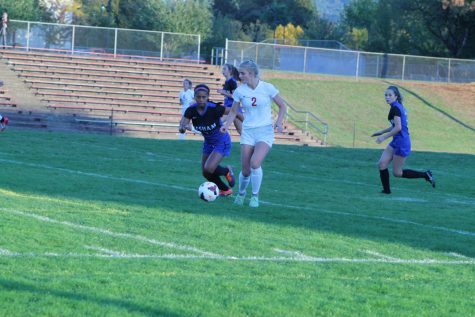 Birkhofer stated that in order to improve, the team needs to work on, "Finishing our chances when we have them. Composure in front of the goal and put the ball in the net." These adjustments will be key for the rest of the season.Overall, Birkhofer felt like the season is going "OK." She said, "There are a few games that we would like to have back that we don't feel like we should have lost." Despite this, she stated that the season has been successful. Additionally, she expressed that that the team is playing really well together. Birkhofer said she is very proud of everything the team has accomplished so far.
The next game will be Monday at home versus Central Catholic at 6 pm. They will be facing a Central Catholic team that currently holds a 4-2-2 record and is ranked 13th in the state.