In Memory of Noorullah Tajik
Noorullah was a runner. Every weekend rain or shine, he would lace up his shoes while the house was silent and step out into the cool morning air.  Soccer was his passion, but running kept him sane.  So much so, that he would run from Gresham to Downtown Portland and back–one hundred and eighty blocks one way.  On the back of his track jacket, one would see his nickname, Zam Zam.  Farsi for Holy Water.  Noorullah's parents are from Afghanistan, but he and his siblings were born in Iran and moved to The United States three years ago.  This would have been the start of his 4th year, his senior year, his graduation year.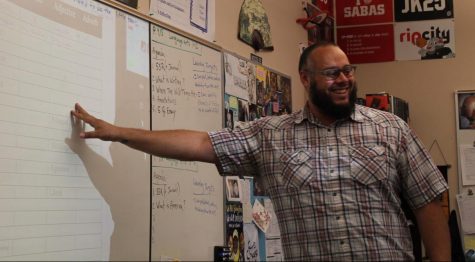 In the classroom, his mind was just like his body, always racing.  Noorullah was one of the most eager, hardworking, bright, and kind students.  As a Newcomer, his intelligence and drive to succeed shone through every day.  He loved history and always sought out new knowledge.  Noorullah was a deep-thinker and often shared complex thoughts and connections to each lesson, despite the initial language barrier.  Sometimes, the nuance of what he was trying to say would get lost in translation, but he would patiently say it another way until his point was understood.  Most importantly, Noorullah had such a kind soul and heart; he was patient, helpful, and respectful to everybody around him.
At home, he was always sprinting from one obligation to the next.  He was deeply committed to his family.  Due to Noorullah's older brothers having families of their own, he was the man of the house.  Therefore, in addition to school, Noorullah's time was devoted to managing the home, helping pay the bills, and making sure his siblings and mother were taken care of.  He sacrificed his time for the family; he never denied them anything.  He always finished whatever he started, and he would stop at nothing to make sure his family was taken care of, which means that after a full school day and in between work, he would always find time for the little things like training his younger brother in soccer.  
Noorullah was a runner, but when faced with the biggest decision of his life, he didn't run.  He reacted.  He died saving another person's life.  He lived out the meaning of his name, "Light of Allah".  He leaves us with his truth of living a life for others.  The lesson he leaves with us is to remember to put others first, sacrifice for others, and let the light shine through us.
Noorullah is greatly missed and loved by all who knew him.  He is survived by his mom, Hanifah and six siblings, Hamidullah (29), Habibullah (24), Saifullah (18), Najibullah (16), Mojataba (14), and Fatemeh (9).