Volleyball Comes Up Short Against David Douglas, Oregon City
The varsity volleyball team took two losses this week against David Douglas and Oregon City.
They lost all 3 matches; 25-20, 25-12 and 25-17.
According to Coach Olson, sophomore Christina Rodriguez had her best match of the season. "She had outstanding passing and a team/season high 11 kills. It was a very exciting game for her."
Senior captain Erika Zuel recorded 23 assists during the match. "She played very well for the most part."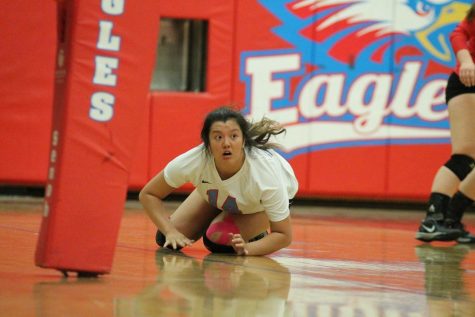 Despite these individuals, "too many hitting errors eventually doomed us in loss," said Olson.
The Eagles lost in all 3 matches; 19-25, 12-25, 14-25 against Oregon City.
Senior captain Sheila Trnjanin was back in starting lineup last night after being out the entire season with an injury.
"She provided consistent passing, serving and hitting for the Eagles," said Olson.
Sophomore Bailey Becker provided consistent passing throughout the match.
Due to the lack of consistency of the team, it led the Eagles to an eventual loss.