Girls Soccer Defeats Putnam 2-1 in Thriller Monday Night
The Girl´s Soccer season is off to a decent start, currently standing at an 2-3-1 record. Through six games they have been outscored 17-15. After a cancelled game against Dallas last Thursday, they lost a close game Saturday 3-4 to McMinnville. Monday Night, the Eagles pulled off an exciting comeback win against Putnam to win 2-1.
Coach Kelsey Birkhofer described the game against Putnam as "pretty crazy." Despite the fact that Centennial had a significant possession advantage, they failed to capitalize on their opportunities to score. They struggled to put the game away and allowed Putnam to hang around for too long.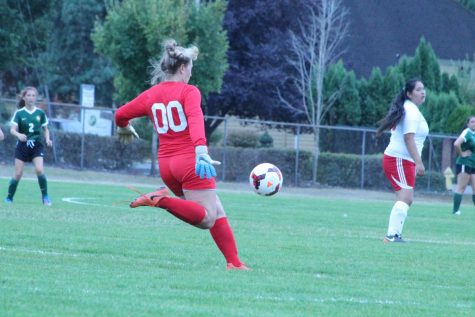 After giving up a bad goal, down 1-0, Gabbi Nowodworski scored a goal to tie the game at 1-1 with only three minutes remaining. With only a minute and a half left in the game Nowodworski once again scored a goal to make it 2-1 and secure the victory.
Birkhofer noted how she was, "Very proud of the fight to the last minute of the game." Additionally, she stated ways the team can improve in the future. "Just having composure and putting away our chances when they are there," she said.
The next game will be Wednesday, September 27 away versus David Douglas at 7 pm. They will be facing a David Douglas team that currently holds a 1-3-2 record.