Eagles Finish Strong At State Meet
Both the boys and girls track teams had seasons to remember as a huge turnout and strong athletes led to a variety of athletes reaching the state meet.
The girls took second in the MHC by the narrowest of margins–1 point–on a controversial decision at the Barlow meet.  Head Coach Luke Franzke was named girls Coach-of-the-Year. The girls finished 6th at the state meet.
The boys finished 24th at the state meet.  
State Meet Results
David Sanchez placed 5th in the Pole Vault jumping 14'6
"I think I did all right.  I at least wanted to finish 3rd, but I'll be a lot more prepared for it next year.''
Jimmie Barton placed 5th running a 10.88. Barton was 12th in the 200m running 22.26
"It was great, but I felt intimidated by the huge crowds."
Henry Button placed 7th in the shot put throwing 50'3 1/2
"It was lit."
Jesse Porter placed 11th in the Triple Jump at 42'9 ¼
"It was lots of fun. The atmosphere and getting to hang with my teammates was great.  It was the best part of the year."
Julia Colling placed 2nd in the pole vault jumping a new school record height of11'6
"It was my third time at state and I PR'd, so I think it was a really good way to end the season."  
Sierra Schultz placed 7th in the pole vault jumping 11'0″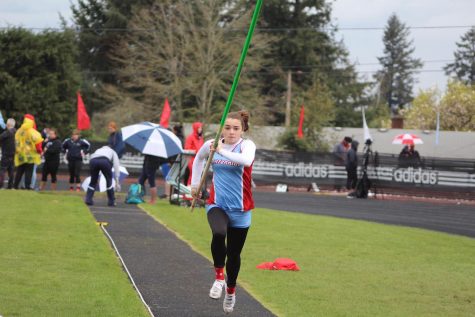 "I think I did really good. I'm not letting what I placed get to me, as long as I got there."
Freshman Angel Aluesi placed 4th in the Shot Put throwing 38'10 1/4″ and 5th in the Discus with 121'8
"I was really nervous, but I had a really good experience."
Maddie McHone, sophomore, placed in 3 events.  She was tied for 5th place in the high Jump jumping 5'2, 4th in the 100m high hurdles at 14.98 and 5th in state in the 300 intermediate hurdles at 45.89.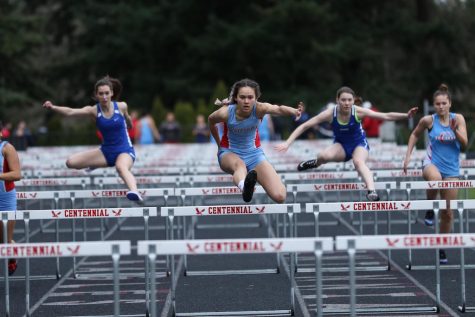 "It was a really good way to end the season because i got to be with my friends, I felt the chance to really push myself."
Alivia Jackson placed 12th in the Shot Put 34'3
"As a team we did overall really great. I think all of our athletes placed. Individually, I had a really good experience; we did a lot of bonding.'']
The girls 4x400m Relay consisting of Alyssa Ronnfeldt, Shoshana Lewis, Christina Rodriguez and Chloe Smith placed 15th in the state with a 4:08.36.