Girls Finish Third; Petersen Earns COTY
The Centennial Girls tennis team finished the season off with a record of 9-5 which earned the team third in the Mount Hood Conference behind Clackamas and Central Catholic.  
Despite the success the team achieved this season they were not able to advance anybody to state. The team's best doubles,  junior Avelina Borovskiy and senior Brittney Pioquinto earned second team all conference at districts, but were not able to qualify for state.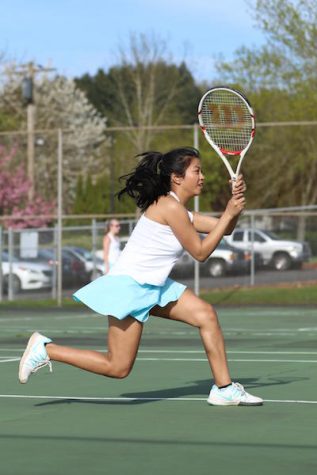 This season the Eagles swept David Douglas, Reynolds, Oregon City and Gresham in two matches each while also splitting the two meetings with Barlow.  The team had a chance to upset Central Catholic but lost 9-8 in "sets." Despite the close loss the Eagles bounced back two days later and defeated Gresham 7-1.
This season was by far the best season Coach Ben Petersen has had since taking over the girls tennis program, finishing with his best record yet and also winning Mount Hood Conference Coach-of-the-Year.
Petersen said he will remember "How well we did as a team.  We had a very good team from top to bottom."
Looking ahead to next season Petersen said that the following year won't be a reset year but, he did stress that the team will focus more on growth rather than winning.