Softball Seeks First League Win Tonight
The Eagles have yet to get a win in conference play, but are making good improvement against their tough competition.
Earlier in the season they suffered a 13-1 loss to Oregon City, which is now the second-ranked team in the state, but this week they came out like they had nothing to lose, and only lost 3-0.  They even had some chances to score, and possibly win, that game.
Teams that are winless, they usually are the most feared teams by the opposing team. They have nothing to lose, and nothing to regret. Nothing matters more to them, than finally getting a win. This is especially true with Centennial considering they have All-State infielder Jill Uyeda. She is nothing but a competitor with the will to win, and will go all out for her team to get at least one win during league play.
Also, considering they have many experienced seniors on the team, like Angela Rivera, Sam Cohen, and Megan Byram, it is odd that they are having such a down season. Certainly something has got to change before their season ends, so they can finish their season without laying a goose egg.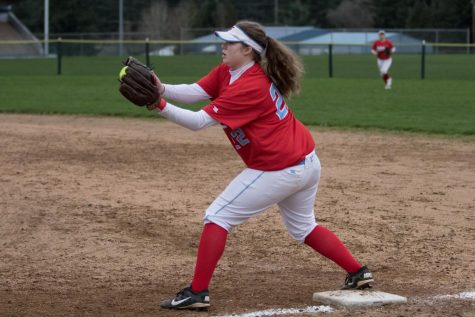 Rivera explains, "We're going to be aggressive from the start of each game and finish strong. We have to execute our plays, have strong defense, and hit the ball hard if we want to come out on top from now on."
The Eagles have five more chances at that elusive first league win. It all starts tonight at Reynolds at 5pm, and continues Monday at Gresham. Both games start at 5 pm.