Grubar Practices What He Teaches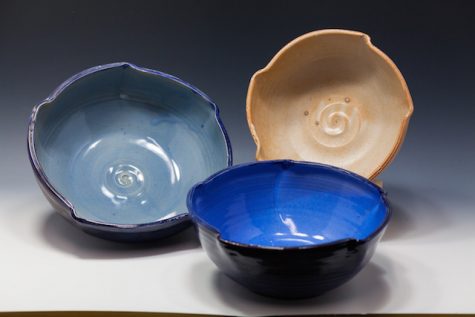 Many people know Michael Grubar as the ceramics and art teacher here at Centennial High School. But little does everyone know that ceramics is also his passion outside of work.
Grubar started out doing ceramics during elementary school and has had his hands on a wheel ever since.
While taking summer school he was allowed to take what was considered a "fun class." All the classes were full except for one: art.
Throughout his entire school career he struggled with a learning disability. But in art class he prospered. Even though he has never been the sporty type he finally found somewhere he fit in and something he could do well.
Although he had fun with it in elementary school once he got to high school he didn't take art seriously. It took him until college to realize the potential he had.
While in college he was always in the ceramics room until one day a graduate student told him that he should become an artist. So that's just what he did.
Now 47, Grubar is part of the Oregon Potters Association and has his own studio here in Portland outside of his job at Centennial.
He enjoys making wheel thrown pottery the most, his favorite is making large serving bowls.
Lately Grubar has been changing up the game.
He's been slightly altering things in his work. For instance he's been using different shapes such as pentagons and creating double rims.
When asked why he started this he said, "I just started tweaking it one day and thought it enhanced the work."
Although Grubar makes beautiful artwork not many of it is sold like he wishes.
But he stays positive about his work and is always making more.
"I enjoy knowing my stuff can be used on a daily basis. It's a good feeling when people say they think of you every time they take a drink of their coffee," he said.
For anyone interested in learning more about purchasing his work he will be having a show in his studio at 2809 SE Stark on March 24 from 5pm-8pm. Prices range from $15-$85.