Wrestlers Wrap Up Season
As reported last Monday, sophomore Phillip Kue won the State Title in the 113 weight class.  Here is a wrap up of the rest of the wrestling team's season.
"We had 12 wrestlers place at the district tournament and took seven kids to State," said Assistant Wrestling Coach Ehren Schneider.  "Our team was successful."
"We set expectations and goals in the beginning, it was up to them to meet up to those. We encouraged them to just compete," said Head Coach Roger Matthews.
"Beyond all the medals and places, all wrestlers, freshmen to seniors, competed and gave their best effort. That is something that would make any coach proud," said Schneider.
"As a team we did really good. Considering that a lot of the guys were injured last year, we came back and did really great," said junior Baseem Saad who had an overall record of 47-17 and placed 3rd in district in the 195 weight class.
"Personally, I think I could've done better. I started really good, but kind of flat lined toward the end, which is kind of bad since it's the biggest part of the season," said Saad.
"It was a great last season to remember," said senior Elijah Kue. The team performed a lot better over the past three years and improved so much. Without them, I wouldn't have become better as a person or wrestler," Kue had an overall record of 32-28 and placed 1st at districts in the 152 weight class.
Senior Seth Sherrell, a 145 pounder,  was 36-12 overall.  "I think I did good, I felt I left it all out at the mat and gave it everything I had. I wasn't mad when I lost. I fell short off my goal. I wanted to place in state, but I did everything I could."
"I expected to do a lot better than I did, it was a pretty tough bracket," said senior Henry Button. "but I felt like I could compete against them. I made a lot of mistakes, I learned that at that level you can't make mistakes because guys will take advantage of them. I still had a lot of fun, the team was really competitive."  Button was 41-4 in the 170 pound weight class.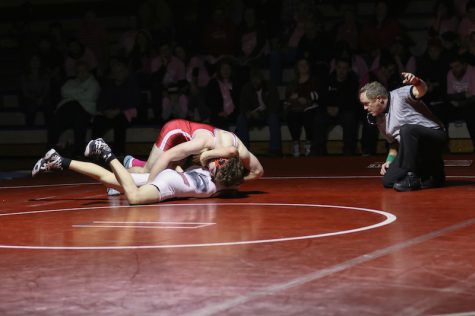 "Wrestling has taught me how to manage my time wisely. It was the hardest sport that I've ever done because of the training, it's just always really intense," said Tui Laithang who had an overall record of 17-28 and placed 4th at districts in the 126 weight class.
Senior Tyler Wagner had an overall record of 50-16 and placed 3rd at districts in the 132 weight class. He was unavailable for a comment.
As reported last Monday, sophomore Phillip Kue placed in 1st at districts and 1st at  6A-Champions in the 113 weight class.