Girls Improve on Last Season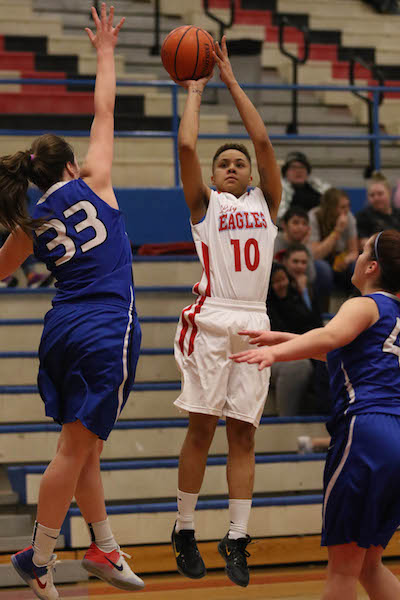 The girls basketball team ended the season with a record 5-18 and lost 10 games in a row to end the season but still improved upon last season record by winning three more games. Along with the record improvement the girls lost a handful of games they could have won, losing four games by seven points or less.
Even though the Eagles lose four seniors in Alyssa Guthrie, Kristin Shore, Gianna Loville and Megan Byram, they retain standout freshman guard Ellie Basinski, sophomore wing Maddie McHone, freshman forward Tupou Fononga along with four other varsity returning players. Eagles Coach Tom West is hoping to build off this season and improve toward next year.
"Improve our defense and scoring ability" are the two areas West will focus on to become more successful next season. Despite finishing last in the Mount Hood Conference the Eagles finished sixth in defense and seventh in offense. Not the greatest numbers but definitely an improvement upon last season.West summarized the season as "Injury prone. Alyssa (Guthrie) was out for half the year and Kristin (Shore) missed some games too." West thinks the Eagles would have won more games if not for the recurring injuries. Nonetheless West was proud of his team and of how they played throughout the season. West said "We have to continue to build continue to improve for next season."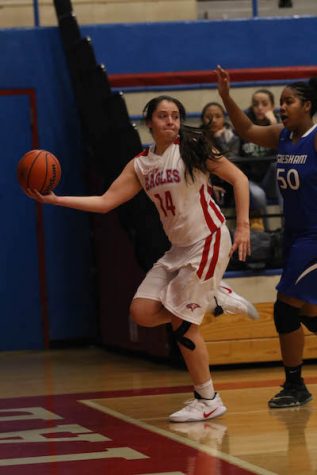 The Eagles finished 47th in Oregon out of 50 teams and last in the Mount Hood Conference. Despite their record the Girls enjoyed some nice wins against the likes of Madison and Wilson, two teams that finished ahead of the Eagles in the rankings.
Looking ahead to next season West said "Tupou [Fononga] will likely be the leading scorer next year and Ellie [Basinski] is going to be a solid player for us too."
If the Eagles do continue to improve and put in work during the offseason they will for sure be a formidable opponent next season and according to West the team has a "good shot at making the playoffs next year."