West Has Girls on Upward Path
The Centennial Girls Basketball team continued its vast improvement upon last season's record of 2-22 as they currently hold a record of 5-11.
This means they have more than doubled their entire win total from all of last season in a span of just 16 games. Despite the Eagles losing 11 games, they have competed hard and kept many of their losses close and competitive.
The Eagles picked up their best win of the season against Gresham on Jan 20.  The Gophers came into the game with a record of 4-8 and were also ranked above the Eagles on OSAA.  The game was back and forth all the way up until the Eagles took a two point league in the final minutes and won the game was 61-59.
Head Coach Tom West said, the team isn't where he wants it to be, but he's pleased with where their at.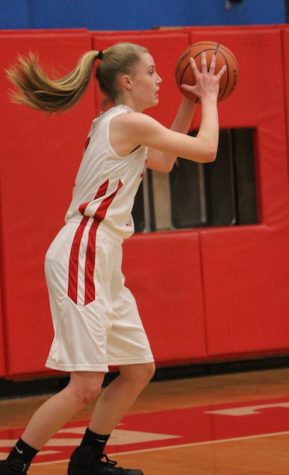 "The team is way ahead of where they were last year," he said. The most important message that West preaches is to improve after every game and every practice. The Eagles improvement upon last season on defense and on offense is highlighted in the fact that the Girls average 10 points per game more than they did last season while also reducing their opponent's points per game by 10.
Still, there are things to work on.  Among them, "Getting organized on the offensive end," said West.
Senior Alyssa Guthrie, the leading rebounder on the team, suffered a leg injury during a game against the Barlow Bruins on Jan 21. "Alyssa is most likely out for the rest of the season," said West.
This is a big loss for the Eagles because they will lose rebounding and most importantly senior leadership on the court.  To fill that void, the team will need all five players on the court to crash the boards and step up their game, he said.
Making matters tougher the team also faces a tough schedule ahead with three of the next four games on the road.  Also on the schedule is a tough back to back stretch against Oregon City and Clackamas, two very good teams who are ranked within the top five in Oregon.