Weather, Back-to-Back Games Factor Into 2-4 Start
The Centennial boys basketball team started their league season off with three losses, then broke that streak with two wins before losing Tuesday to Central Catholic.
Their first opponent was the Oregon City Pioneers, with a 54-32 loss.
The team's 51-43 loss against the Clackamas Cavaliers was one of their hardest fights yet, with the Eagles keeping a lead until the fourth quarter in which they only scored two points.
"Some people say, 'Hey, Clackamas, top three team in the state, you should be happy you almost beat them. But, that's not the mindset that we have, or at least what I have, and since I don't have that mindset neither do my players," Coach Osa Esene said.
Their third league matchup against the David Douglas Scots was a close fight, with the teams trading the lead until the end of the fourth, when Scots guard Moses Kinga scored and ensured the team's 54-52 victory.
With the snow days canceling school and many games, the team had to push through four back-to-back games last week, winning the last two.
Weather could be a factor as the team has played well and kept up with every opponent they've matched up against, yet have tended to falter in the fourth quarter because of turnovers. However, they ended that pattern as they beat Gresham High School and Sam Barlow last Friday and Saturday.
Senior guard Sam Marcum had a season high 17 point game against the Sam Barlow Bruins. By the end of the first half, the teams were battling to a score of 38-34 with Barlow leading, yet the Eagles managed to push through and gain a 13 point lead at the end of the game to win 71-58.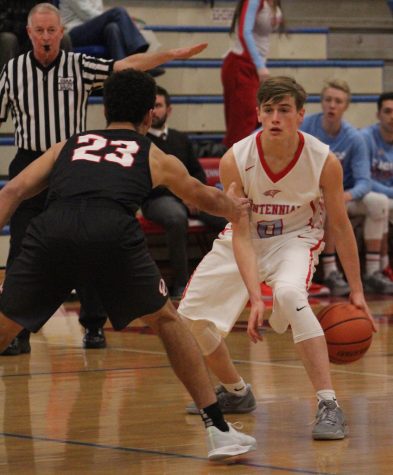 Marcum said, "Barlow was a huge win for our team, we needed a win bad after starting league play off 0-3. We need to take this momentum into these next two games and the second half of league to get our team back to where we were originally projected."
Unlike their usual patterns of struggling towards the end, the Eagles scored 19 points in the fourth quarter in the loss to the Rams.
Over the holidays, one of the team's biggest achievements was getting a championship at the Southern California Holiday Classic in San Diego.. Their offense proved to be superior to the rest of the Californian teams, and their defense provided a chunk of the offense as well.
The Eagles play at Reynolds High School on Friday at 6 pm, and at Sherwood High School Saturday at 4:30 pm.