Girls Start 2-2; Match Last Year's Win Total
The Centennial girls basketball team is looking to improve and bounce back this season after having a tough year last season when they finished 2-22 and had a tough time scoring the basketball only averaging 34 points a game and also not eclipsing the 50 point mark once.
Second year coach Tom West said that the offense was one of the main problems last season.  To address the offensive woes coach West is looking for the Eagles to run on offense and get easy baskets.
Another obstacle the Eagles will face will be their lack of height.  They do not have a single player taller than six foot, which is going to hurt the rebounding and interior defense. To address both of these issues the Eagles will need to use the quickness of their guards to play solid defense on the perimeter while also pushing the ball on offense.
To avoid having another down year the girls will have to lean on their four seniors for solid play and leadership.  Two seniors Kristin Shore and Megan Byram who have been on the varsity team for a couple of years will need to continue their solid play if the Eagles look to have a good season.
When assessing what the girls goals for this season were to be West said, "Winning 10 games and averaging 50 points a game."   West wants the team to continue to improve and get better as the season progresses.
The Eagles have four seniors: Byram, Shore Alyssa Guthrie, and Gianna Loville and three sophomores in Maddie McHone, Dominique Andrews, Maggie Martine.  Three is only one junior, J'melia Bell, and one freshman, Ellie Basinksi.
West said that the team had an "outside shot" at making the playoffs this season.  If the Eagles were to make the playoffs that would be a huge accomplishment and a big step forward.  To reach their goals this season the Eagles will need the whole team to play well and contribute throughout the whole season, he said.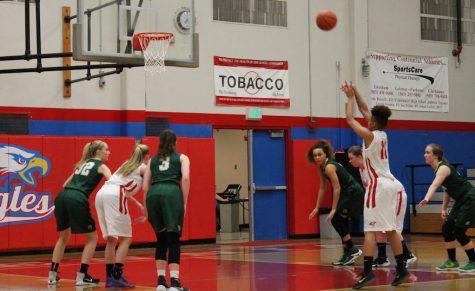 In the Eagles first 4 games this season they have already matched their entire win total for all off last season. The girls also scored 50 points in their first three games as they  blew out Madison by 22 points  and beat Wilson by six points.  They lost to The Dalles by seven points and to Rex Putnam by 20.