Eagles Trounce Franklin; Face Clackamas (Again) Friday
The Eagle's offense has continued to be scorching hot as they beat the Franklin Quakers 52-28 last Friday. In the beginning of the game, Centennial got off to a great start while acquiring 13 points halfway through the first quarter. While the Eagles were looking victorious early, the Quakers countered in the end of the first quarter with a touchdown, and then scoring another early in the second quarter.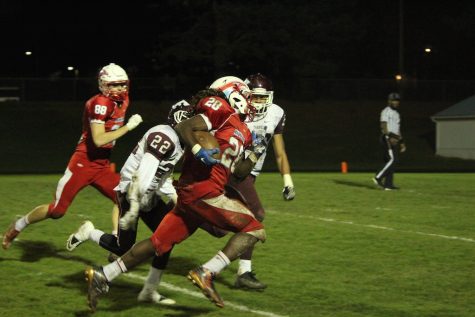 With the score tied early in the second quarter, the Eagles began to take control of the game again, scoring two more touchdowns in the first half, concluding the half with a 25-14 lead.
In the second half, the Quakers scored early, but then couldn't capitalize to take the lead while the Eagles continued to build a 39-21 lead. Near the end of the game, the Quakers managed to put up one more touchdown, while the Eagles scored two in the fourth, with a final score of 52-28.
This week, the Eagles have received the chance to take on the Clackamas Cavaliers for a rematch of the 2016 Mount Hood Conference Championship.
Head Coach Chris Knudsen explains that, "Although I have to change part of our scheme this week since last time we played Clackamas was two weeks ago, I believe that the loss was more of an execution problem than a schematic problem."
If Centennial beats Clackamas this week, they could play the 12th ranked team, West Salem, or the 5th ranked team, Beaverton, in the quarterfinals next Friday, Nov. 18.
The second playoff game against the Cavaliers will take place at Clackamas High School, starting at 7 pm.
Student council members are promoting "super fan" swag by encouraging all CHS students to wear white.