Eagles Finish Third After Clackamas Loss; Face Franklin Friday
The Eagle football team had one of their most successful seasons ever this year while going 7-2 overall and 5-2 in conference play. Highlights of this season include a 41-40 comeback win over the Newberg Tigers, and a 46-36 win over the Central Catholic Rams who had priorly produced a 43-game winning streak in the Mount Hood Conference.
The Eagles were cruising toward a MHC championship until meeting up with the Clackamas Cavaliers, who seemed to be a defensive powerhouse in Oregon but decided to show off their offense last week, completely obliterating the Eagles 69-29.
Before last week's game, Head Coach Chris Knudsen said, "Playing stellar defense and producing points on offense will win the game for us." While they weren't playing great defense in the first half of the game, the Eagles still managed to hold their own against the new conference powerhouse and were only down 28-21. Unfortunately, the Eagles came out sluggish in the second half and allowed 41 points while only scoring 8.
The Eagles finished third in the conference behind the Cavaliers (second place), and the Rams (first place).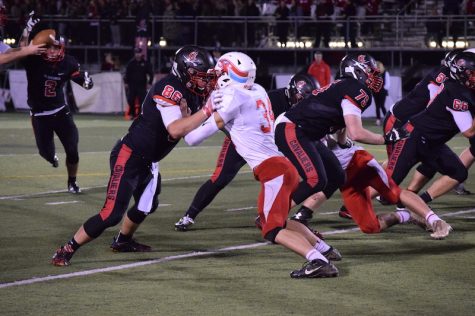 Centennial finished the regular season ranked 13th in the state, and will go on to play the #20 Franklin Quakers Nov. 4t at Centennial High School. The last time the Eagles won a playoff game was in 2009, in which they beat the Sandy Pioneers 50-44, and then moved on to playing Clackamas in the second round of the playoffs, beating them 42-21. The Eagles of '09 went on to play the Canby Cougars in the quarterfinals and lost 63-35.
According to Knudsen, the Eagles are focused on one thing and one thing only, and that is winning a football game this Friday. They know that the Quakers have a tall and athletic quarter back, along with many athletic skill position (wide receiver, halfback, fullback, tight end) players in their depth chart. They plan to win this game by, "Playing sound defense, and controlling the game more than Franklin does. If we can produce long drives, that result in touchdowns, then we should win this game," said Knudsen.
Another important matchup this week is Clackamas vs. Tualatin, considering the fact that whoever wins that game would end up playing Centennial or Franklin. If all things pan out as many have predicted, the Eagles will end up in an overwhelming position with a rematch against the Cavaliers. On the upside, the Eagles know exactly what to look out for against the Cavs. On the downside, in order to beat them, they have to find a way to score more points against their stellar defense, and find a way to stop their outstanding offense, all within one week of practice.