Boys Shoot for Playoff Run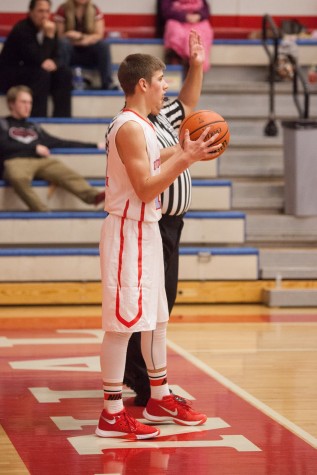 Although the last league game for the varsity boys is tonight at Gresham, the season is not over.
On Saturday, the team will be playing a play-in game on Saturday, and if they win, the team will get into the playoffs.  A loss ends the season.
Head Coach Osa Esene came into this season with expectations of the team competing and being relevant at each game, and he says that they have achieved those goals.
"We played as a team, we were competitive. We didn't quit. We played with a lot of heart and passion, and at the end of the day we came with that at pretty much every game," Esene said.
Overall, this season has shown lots of improvement. The team is finishing fifth in the Mount Hood Conference, and have been taking positive steps towards becoming better.
"Throughout the year I have seen the whole team improve. But I have seen people who I didn't expect to play the way they did this season play at a whole different level than they were used to. I am proud of us as a whole, and I am excited to see what we can do in 2016-17," said Junior Rhys Atkinson.
Esene points out the core starting five, who stepped up on both the offensive and defensive end. Every other player played a crucial role in lifting the team spirit up and keeping everyone together. The main goal for the team now is to stay focused, positive, and keep believing in themselves as a team and individually.
"My job isn't done. My mission as a coach is definitely impact the lives of the player, I wanna produce great players. I wanna also make sure each player can look back and say 'Hey I was apart of this life.' I wanna make sure everybody knows the energy and the passion that I put out is to help them be better athletes, but I wanna make them better men."