Cheer Places High at State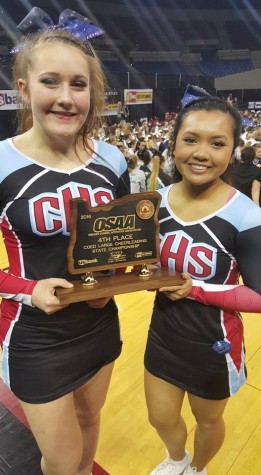 Portland Memorial Coliseum hosted the Oregon School Activities Association Cheerleading State Championship on February 13 and Oregon Cheerleading Coaches Associated State on Feb. 14.
"It was amazing hitting everything at state, especially for my last time. I'm very proud of my team so far, and we managed to get top five in the state!" Co-Captain, Senior Janessa Nguyen said.
The Varsity competed at the OSAA event and finished fourth in the Large Co-ed division.
Then on February 14, the Junior Varsity took first place at Oregon Cheerleading Coaches Associated State in the Small All-Girl Division.
For the first time ever, this year, Centennial Varsity Cheer team is heading out to Anaheim, California to compete at Spirit Nationals during Spring Break.
Varsity Captain, senior Alyssa Black said, "I'm really excited to go on this last adventure with my team! I'm so proud of how far we have come and I can't wait to take the mat one last time with them. It's gonna be a great experience."