Girls Basketball Season Comes to an End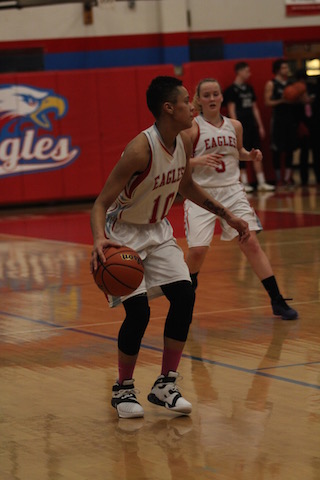 After Friday's 37-32 loss against David Douglas, the Centennial girls basketball team now has a record of 3-19 and 1-12 in league. They're currently ranked at number 46 in the state.
"This season was disappointing but improved quite a bit," said first-year coach Tom West. West said the most consistent leaders on the floor this year have been Alyssa Guthrie and Kristin Shore. He also said senior Courtney Perry, even though not able to play some of the year due to health issues, has been a terrific leader on and off the court.
West feels like the team has been improving all year and should be much better much next year. He said, "Our goal for next season is to win 10 games." West said learning to trust each other is key to improving. The girls team also looks to communicate better next season, he said.
West feels that chemistry will be much better next year mainly due to the fact that the team had a lot of new players this year. A main goal for next season is to grow stronger offensively. The girls had a tough time scoring this year as they scored an average of 32.2 points per game while allowing 49.8 points per game.
Returning notable players for next season are:  Shore , Guthrie, Gianna Loville, Megan Byram,  and J'Melia Bell.
Offseason training for the team will include a team camp as well as summer ball.
The girls will be playing their last game of the season tonight at Gresham at 6pm.