Wrestling Season Wrap Up
Six wrestlers have qualified for the State Tournament this Friday and Saturday at The Memorial Coliseum in Portland. Phillip Kue, Elijah Kue, Seth Sherell, Tyler Wagner, Josh Rodriguez, and Raymond Fenane are all set to compete.  Phillip Kue competed at the 106 weight class, Elijah Kue at 152 lbs, Tyler Wagner 126 lbs, Josh Rodriguez at 145 lbs, and Raymond Fenane at 285 lbs.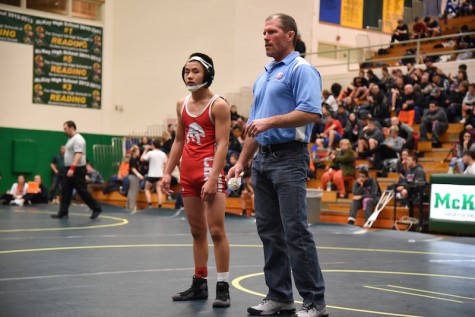 Freshman Phillip Kue entered state with a personal record of 37-1.  Kue stated that he was "excited to go to state".  Additionally, his goal was to make it all the way to the finals.  He has been training for wrestling ever since he was in the fifth grade.
Phillip's elder brother Elijah was also anticipating state.  His goals included: winning a match, to place in state, and to avoid being pinned.