Child Takes Over AD Position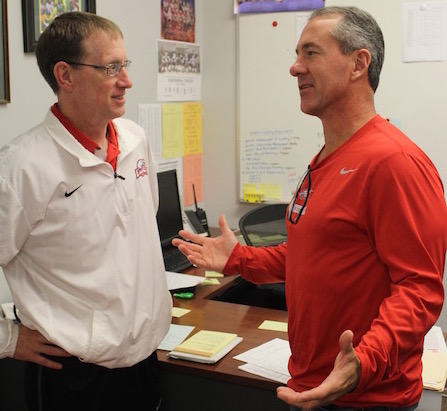 Brent Child, the Athletic Director at Centennial, has been passionate about sports all throughout his life. "I love all sports," Child says. "There's nothing like competing in a sport you love."
As a 1984 Centennial High School 1 graduate, Child played soccer in middle school and baseball and basketball throughout high school. After he tore his hamstring in middle school, he decided to stop playing soccer but wished that he continued to pursue it.
      After graduating from high school, Child was the catcher at Linfield College. Being a baseball coach was something that he has always been interested in, so he volunteered as a Varsity coach assistant at Beaverton High School, and eventually was offered the head baseball coach position at Centennial in 1991.
For 22 seasons Child coached both baseball and basketball at CHS.  This past summer he was offered the position to be the Athletic Director and was enthusiastic to take the job. "I love working with all of the coaches. They are here because they love to work with kids," he said.
 In his free time, Child enjoys spending time with his daughter, doing yard work, watching a movie whenever he can, and is always interested in fitness related activities.