Males Proudly Join Cheer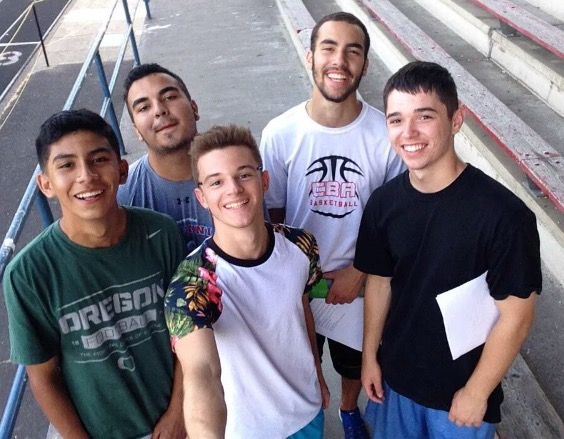 The stereotypical high school cheerleader: blonde, tall, skinny, and female. This year, Centennial is breaking that mold, with five males currently on either the cheer leading team/stunt squad.
"Over the years there's been a couple [male cheerleaders]," stated Athletic Director Brent Child. But it has been more spread out, and not multiple on the team at the same time. The males are Ryan Payne, Thomas Farias, Garrett Becker, Phillip Mestas, and Felipe Rodriguez. All of them joined about 5-6 months ago, and have loved every moment since.
"I went last year and watched a competition and said 'why not?' And ended up really liking it," explained Mestas. Rodriguez went to the competition to support his girlfriend, and inadvertently noticed how fun it looked. Most of the boys were friends before cheer, so they decided to go to tryouts together. They tricked Farias into coming, and forced him to practice with them. Now, he couldn't be more proud of being a cheerleader! "I'll say this," Farias explained, "You have football and cheer-one sport is manly, and one sport is not manly. Football is the unmanly one."
They all agreed that football was more physically demanding, but cheer was more mental. "Stunt groups depend on each other more. If one person messes up- in a way we all mess up," said Becker. The cheer coaches were very accepting of the football players, and worked around both schedules.
Sadly, being a male cheerleader isn't all positive. These boys have to deal with constant teasing and judgement from others. They say they mainly just get ridiculed and called derogatory names, but it's something they knew was coming. Rodriguez states, "We don't really let it affect us at this point.  We just do what we do."