New Staff on the Block
The Choir Department is proud to announce their new choir teacher, Brice Cloyd. Cloyd taught at Centennial Middle School, Conestoga Middle School in Beaverton and at Lorna Byrne Middle School in Cave Junction. There he taught Band, Choir, Technology and Drama. He now is only teaching choir and one of his main goals is to win at state with Concert Choir! Outside of school, Cloyd is involved with the Oregon Repertory Singers and OMEA (Oregon Music Educators Association).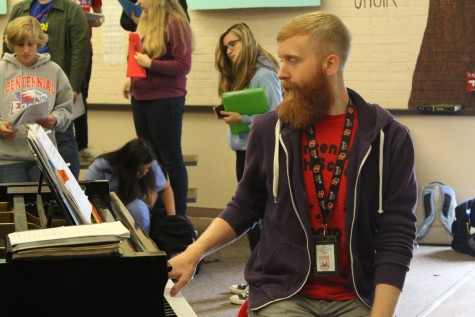 Jimmy Mei:
Jimmy Mei; a 2008 Centennial graduate, is now teaching at CHS. Occupied with Geometry, Physics and Algebra Mei says, " It's nice to be back. Working with my teachers, students, and being a part of the school."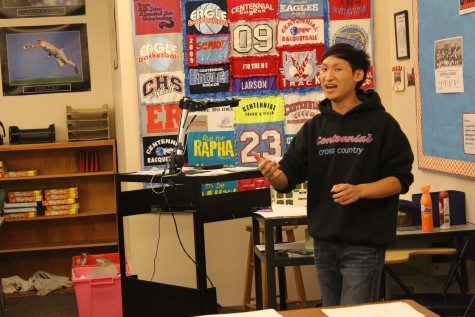 Jeremy Nesbitt:
Throughout Jeremy Nesbitt's 12-year-teaching career, he has taught at Woodinville High School, Lake Oswego High School, and St. Pius X Elementary School. Nesbitt teaches Intro to Leadership Business, Sports and Entertainment marketing, Career and Technology, and Marketing. He looks forward to building the marketing program.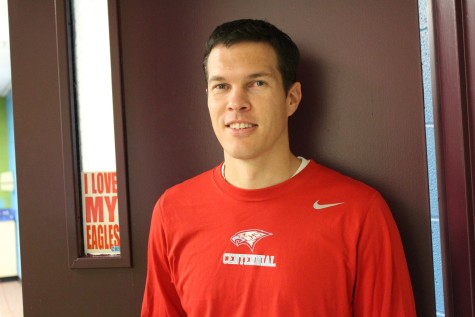 Alex Grandjean:
Alex Grandjean; health teacher, has taught at Sandy High School and Cedar Ridge Middle School as a P.E. teacher. Grandjean loves all sports and wants to get involved in the Athletics Department. He plans on coaching Boys Basketball as well as Boys Baseball.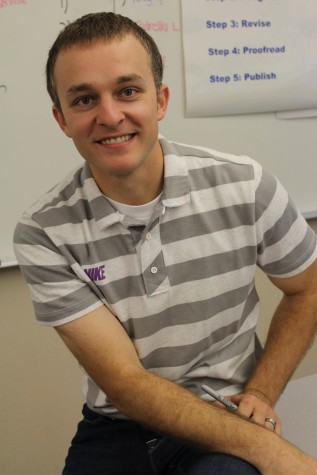 Eleonora Nuryagdieva:
Nuryagdieva "New York Diva" works in the counseling center as a school counselor for last names F-L. Her nickname is New York Diva because it's very close to the pronunciation of her last name. In the past, Nuryagdieva worked at a university for 10 years back in her home country, Turkmenistan, teaching English and Latin. She came to the US in 1994, and worked for 14 years as a bilingual advisor. She also has worked at community colleges, and graduated from school here in the US. Nuryagdieva says she's happy at Centennial because she enjoys the environment, culture, and diversity that this school offers.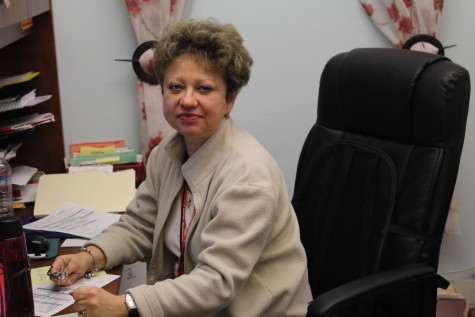 Doug Paul:
Working in the lecture room, Paul mainly teaches English. Paul worked for 12 years in a small arts charter school and two years at a family advocate preschool. Paul decided to work with older kids because he feels he wasn't emotionally equipped to work with younger kids, and enjoys how the conversation differs with older teenagers. Paul graduated from University of California, Berkeley, with a major in English and a minor in History. Paul's favorite thing about teaching is that no two days are exactly the same.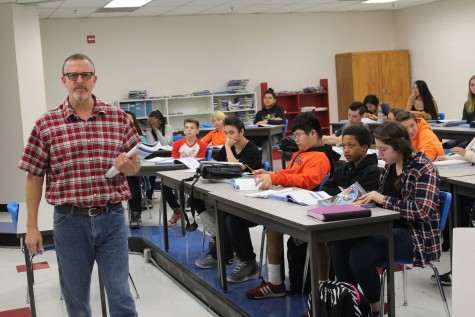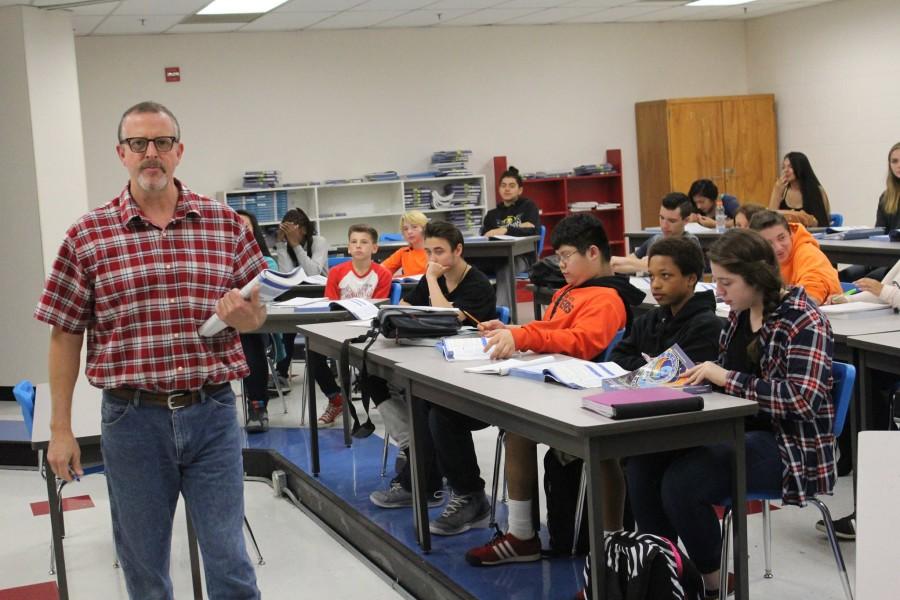 Edgar Brambilla-Perez:
Edgar Brambilla-Perez works in the Social Studies section teaching World Studies and Pre-AP World Studies. Brambilla-Perez graduated from David Douglas High School, so he is familiar with the East County Area. He graduated from the University of Portland where he got a Bachelor's Degree in Education and History. For seven years he taught ELA social studies at a Charter school in Los Angeles. Bramilla-Perez loves the pride that Centennial students carry, and he loves the diversity of the school.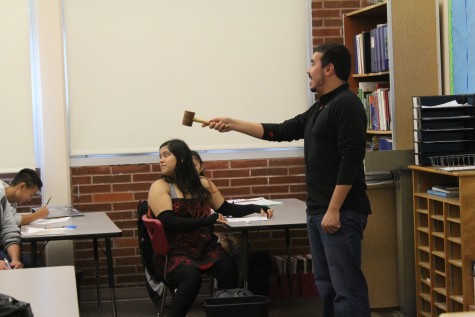 Kari Raeburn:
Kari Raeburn works in a computer lab, but teaches a variety of subjects. She mainly teaches World Studies, but also has Career, Business, and Health classes. Last year was her first year being involved with teaching, and she was also a teacher at Central Catholic. She got her Master's in Art and teaching from Portland State University and Concordia. In her free time, Raeburn loves to run.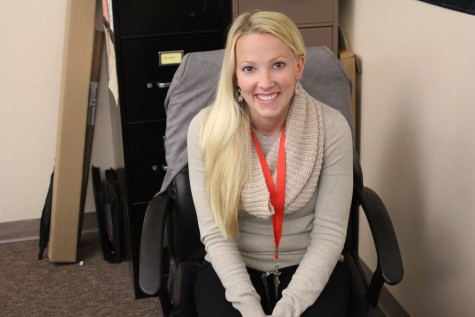 Cory Brook-deBock:
This year is Brook-de Bock's first year teaching, and in the past he was a long term substitute for Physics classes in Vermont. Now, he teaches his own Physics and Chemistry classes. Brook-deBock went to Grinnel College in Ohio and got his degree in Biological Chemistry. He plans on stay at CHS for a long time, and says he really enjoys the students.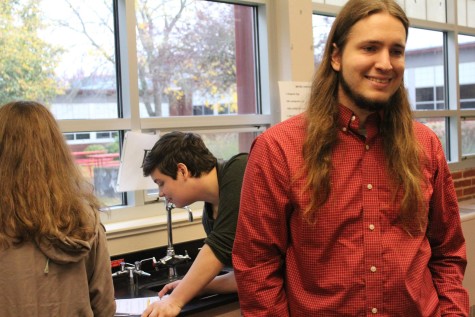 Gabrielle Rivera:
Gabrielle Rivera is a former Centennial student, and she graduated in 2011. Then, she went to Gonzaga University and got her Bachelor's in Special Education. Rivera was lucky enough to have her first formal job be at Centennial as a New Learning Specialist. Her past experiences include being a student teacher. Rivera's favorite thing about Centennial is the friendly staff and students.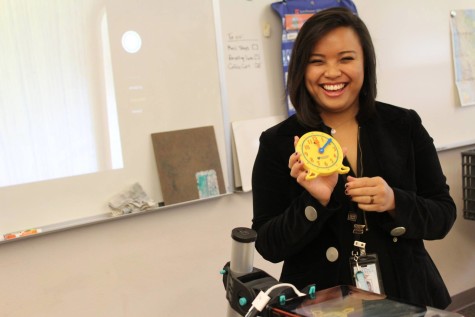 Emma Wood:
English teacher Emma Wood taught French at Cleveland last year and has experience teaching at the University of Oregon and in the Portland Public School District. Wood earned her Master's Degree at the UO and was actually hired a couple days into the school year so she hit the ground running and has not even had a chance to catch her breath, yet.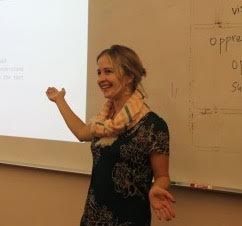 Daniel Shelton:
Daniel Shelton was hired from a grant to focus on attendance at CHS. Shelton's role includes supplying students with the needed resources in order to improve attendance and help them thrive in school.
The main factor in making him succeed is collaborating with parents. Shelton says, "It really is about getting the students and parents involved. It's about making sure that they have a plan for their education."
When students do not attend school, Shelton is usually the one to call families and see what the reasons were for not attending. He also has a different approach to dealing with his job.
"My method has gone off the papers because I see that every student has a different approach as far as their moods and attitudes." So far, Shelton's role has made an influence in the increase of student attendance, and although the grant is only for one year, he hopes to stay at Centennial and make a major difference for years to come.