Teacher Spotlight on Kasey Church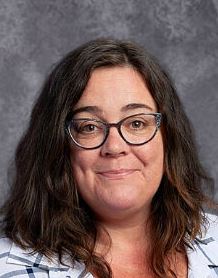 How long have you been teaching?
I have been teaching for 23 years. 20 of those years at Centennial, but I've taught all ages throughout that time. 
What is your favorite class to teach?
Senior English. I'm going to be teaching that and Creative Writing next quarter.
How have you been doing during distance learning?
It feels hard to make relationships with the students over Zoom. It is not as fulfilling; I miss my coworkers and my English department. That being said, its not hard for me to be home with my dog during the day. 
What have you been doing to keep yourself busy during quarantine?
When I'm not teaching, I am with my dog at the local park. My husband and I also like to make food and play music. This year has gone by fast, and has been emotionally exhausting, but there have also been times of calm and serenity. 
What's a hobby you have?
I like to go birding because I love nature and being outside. I have been enthralled with the natural world since I was a child. My mother was a ranger at Bahia Honda State park in the Florida Keys when I was in 5th and 6th grade. She would often bring home injured birds she found to rehabilitate. I have been a birder since I was in high school. I like knowing what the creatures are around me. I am very observant in nature, and that lets me see things a lot of people miss.  I actually made a friend over quarantine while at the park. An 85 year-old man named Fred, and he is also a birding enthusiast. I also have made friends with a Scrub Jay who frequents my yard. I've gotten her to take a few peanuts out of my hand. BIRDS ROCK!
What are your thoughts about returning back to school?
I want it to be worthwhile for the kids. My duty is to go back to work since I was prioritized for the vaccine over people who are elderly, like my friend Fred who is 85 and still has not received his vaccine. I'm not scared about Covid as far as being back in the classroom since I am vaccinated, but I think schools need to be graceful about how we all come back to in person learning. 
Who is someone you look up to that you know?
I look up to my stepmother. She is the smartest person I know.
Who is someone you look up to that you don't know?
I can't name a single person. I would say I admire people who fight against injustice and inequality, and people who fight to protect the environment.
What is your favorite TV show and why?
I can't claim a favorite, but one show I loved recently was "Anne with an E." I crave a simpler time. 
What book character would you say you are most similar to and why?
Its honestly impossible to answer. I will say that it would be a character who is rebellious in nature. 
What kind of music do you most like to listen to? Do you have a favorite singer/songwriter?
We listen to a lot of music. I have a pretty varied taste. I love Willie Nelson, ACDC, Stevie Wonder, Aretha Franklin, Lizzo, etc. I like anything with grit and / or groove. We've been listening to a lot of Dua Lipa recently. 
If you weren't a teacher, what would your job be?
Wildlife biologist
What is the best advice you have ever received?
Avoid debt. Only buy what you can afford. Credit cards are not your friends.
What is a song you would consider to be your theme song? 
As a joke, my theme song is "Make the World Go Away."
If you had to choose a fictional world to live in, which one would it be and why? 
Any world where the planet and all its creatures are valued equally to homo sapiens.