Area Boasts Several Black-Owned Businesses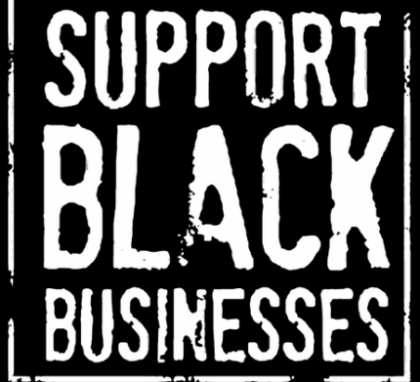 On July 7, 2020, a collective protest known as Blackout Day launched, in which participants were urged not to buy anything on that day unless they were buying from a Black owned business or from a Latino owned business in response to the ongoing racism and police brutality going on in the US. This also served as an answer to the murders of George Floyd and Breonna Taylor earlier this year, and anyone who wished to protest with their wallets did so. 
This led to a huge increase in Black businesses that profited from this protest, and an online community known for connecting consumers to Black owned businesses called Nile also reported a 200% increase in its user base following that Tuesday. It's especially important that people buy from local Black businesses and choose to vote with their wallets during this ongoing pandemic since minority-owned businesses have been hit the hardest by COVID-19. Alongside this, supporting Black businesses will close this racial wealth gap and celebrate Black culture. Here are 10 Black businesses located here in Portland you should consider supporting towards. 
Mimi's Fresh Tees located at Cargo Inc. at 81 SE Yamhill St. -As the name implies, Mimi's Fresh Tees offer t-shirts promoting social justice, with sayings on shirts such as "Make racism wrong again" and "Black Lives Matter". While also balancing being a mother of two, Kamelah Adams enjoys being active in her community and managing social events in her area. Adams was urged by her friends and her kids to start a business, and gave in to the idea, to which she created her own company where she could use her voice for the better. 
Designs by THOR (The House of Rose) located at 7459 SW Bridgeport Rd- Offering custom clothes, bags, briefcases, wallets and a plethora of accessories, ranging from facemasks and scarves to belts and bracelets, this should be at the top of everyone's go-to list for a stylish outfit. In fact, all suits are made in-house, and they take pride in using other local owned businesses as a source for the majority of their fabric. Tony Lyke serves as the creative director and the founder of Designs by THOR, taking inspiration from his mom, Rose, who taught him the art of tailoring, and is also the inspiration of the company's name. 
Black Mannequin located at 2706 NE Sandy Blvd (Portland), 1061 Lloyd Center (Portland), and 2303 E Platte Ave (Colorado Springs)– With three locations in total (and two of them in Portland), Black Mannequin supplies streetwear for men, women, and children alike. The clothing line states their stance on type of clothing; "It's for everyone, it's a lifestyle". Selling a large variation of clothing showing off the iconic urban youth subculture, there's something for everyone to wear from this business. 
Shoebox by Ki– This business is a mobile clothing boutique, meaning the owners have the benefit of moving to different locations to gain new customers, instead of staying in a single locale. Although the name suggests they mainly specialize in shoes, this business also offers a wide variety of styles that can be mixed and fused to any consumer's desire in order to create their ideal outfit. Shoebox by Ki vends dresses, jewelry, makeup bags, and more recently, facemasks to help with social distancing from COVID-19. 
Kee's Loaded Kitchen located at3625 NE MLK Jr. Blvd- Describing themselves as "comfort food we all know and love", Kee's Loaded Kitchen is the go-to place for Black Portlanders to go for a free meal. Each meal is paid for in advance, and the money comes from donations the company receives from supporters. Each meal is more than enough for one person and is served in a bag- maybe containing smoked brisket, fresh bread, or baked potatoes. Since the menu changes nearly every day, customers can look on the Instagram page to see what's in store that day. Although people of color are the main target, anyone is welcome to eat there, at a first come first serve basis. 
Deadstock Coffee located at 408 Northwest Couch Street– As probably the most unique business on this list, Deadstock Coffee is a sneaker themed coffee shop. This may seem jarring at first, but considering that Portland is known as the sneaker capital in the US, the idea slowly makes more and more sense. Although Deadstock doesn't sell shoes, they do offer a nice variety of apparel, mugs, and hats for anyone who would love to show their appreciation towards the establishment. 
Trap Kitchen located at 8523 SE Stark Street– Established in 2013, the Trap Kitchen came about when two gang members Malichi Jenkins and Roberto Smith- also known as "Chef Spank" and "Sous Chef News"-decided to turn their lives around for the better and create a business together. Although they started in California, they slowly made their way around the state and travelled to other states in the country to cater. Their business is now open in Portland, which serves as their stationary location. Since then, they have released two cookbooks, gone on a pop-up buffet style tour, and served food to big names such as Kylie Jenner, Ice Cube, and Post Malone. 
Catfish Lane located at 8145 SE 82nd Ave– Married couple, Dorris and Johnnie have dreamed of cooking food from scratch and sharing it with others for a long while, and decided to make it come true in fall of 2018. Located at Cartlandia, this food cart specializes in Southern style food with a clear New Orleans influence. The menu consists of fish as the food truck name suggests, specifically cod, tilapia, and of course catfish, as well as other items such as potato salad, cornbread, collard greens, and gumbo. 
Produce Portland located at 140 NW 4th Ave– Although the name of this corporation does seem a bit misleading, this local owned business actually specializes in shoes, socks, shirts, pants, and other forms of apparel. Aside from that, they also offer vintage clothing and accessories calling back to properties such as M&Ms, Fallout, Halo, and Nintendo. The business cites its goal as being a sort of outlet for aspiring artists in Portland. While acknowledging the fact that Portland has many artists, they also stated that they, "have yet to develop the platforms and guidance necessary to take many artists to the next level". 
Cason's Fine Meats located at 5015 NE Martin Luther King, Jr. Blvd– Theotis Carson supplies fresh locally sourced meat from here in Oregon, with cows from Natural Meat, pigs from Carlton Farms, and chickens from Draper Valley. Carson offers a broad diversification, whether it be smoked bacon, marinated T-bone steaks, or even pork ground sausage. Although his philosophy is a simple one, it is also a striking statement proving his passion- "Provide good flavor, and you'll make people happy."