Johnson Retires After 26 years
This 2020 school year has come with its many challenges. These challenges range from class schedules, homework loads, personal stresses, among many other things. But in particular saying goodbye to retiring teachers has been very different this year. 
Not only has it been difficult for students to not see their teachers, due to COVID-19, but many were not able to say their final farewells to retiring teachers. Math teacher, Janet Johnson, is one of the teachers who has retired this year. 
Johnson grew up in Portland, Oregon and has been teaching in the Centennial School District for 26 years.
"I've done K through 12 with math. But since I've been at Centennial it's only been high school math," says Johnson. 
Aside from teaching at Centennial, in previous years Johnson has also taught at other school districts such as the Corvallis School District, the Reynolds School District, as well as other surrounding school districts as a substitute teacher. 
So how is retirement?   "I'm feeling great. You know, one thing is time goes by faster, the years fly by faster, than you ever imagined they're going to. And so I planned ahead for retiring." 
"The thing was I thought I'd have, maybe two or three years left," said Johnson. "But when I looked at things and some of the financial decisions I made, when I met with my financial planner he said 'you could do it' and I said 'let's do it'." 
She made it clear that she was not expecting to retire until June 2021, and that she was enjoying teaching, until Covid happened. 
Johnson mentions that one of the reasons that she was able to retire is because she made choices to save money throughout her career. Also, since she was saving her money she was also able to travel to many different places throughout the years.
"I have friends all over the world and the way I've gotten to see them is by just putting little bits of money away. And so then I have money to go see them. For example, a few years back, I went to Spain to visit some good friends and I've gone to many other places in the United States to visit good friends," said Johnson. 
Also, Johnson enjoys taking pictures as a hobby. "I don't care if I make money off it or not, but I do take lots of pictures. I take lots and lots of pictures. And so if I make money at it that's all the better, but you know, if I don't that's ok, too," says Johnson on her photography. 
She has also started playing the piano again. "I have gone back to playing on the piano a little bit. I  hadn't taken lessons since I was in third grade and so I am kind of tinkering around on the piano. I might take a few lessons because that could help a lot. But I'm just playing a little bit every day," mentioned Johnson. 
After quarantine, Johnson wishes to travel more, go on road-trips so that she can stop at multiple places along the way, and visit family and friends. 
Although not every student has been taught by or met Johnson before, she is someone that will be positively remembered at this school for the meaningful contributions she made to the students and community. 
"She is a very kind individual! When she found out I was pregnant she was the very first person to get me a gift for my baby. When my brother passed away, she was very supportive and she would often stop by my classroom to check in and see how I was," said fellow math teacher, Jennifer Morgan. 
"She always wanted us to get the best grade we possibly could," says former student of Johnson's, Juliana Bach. "She teaches math very well. It's easy to understand."
All in all, Johnson hopes that her students remember this: "I hope that most students realize I did make them work hard because I want them to understand that they're much more capable than they think they are. If everyday you work hard then, with time, it will make a big difference. And I think that too much of the time we don't think long term in our thinking. One thing we need to have, is we need to have goals in life. And so if we don't have a goal, don't be surprised you won't get anywhere. But if you have goals, you might end up changing them, but in the meantime you're learning a lot of things and helping yourself. Goal setting to me is a very important thing."
About the Writer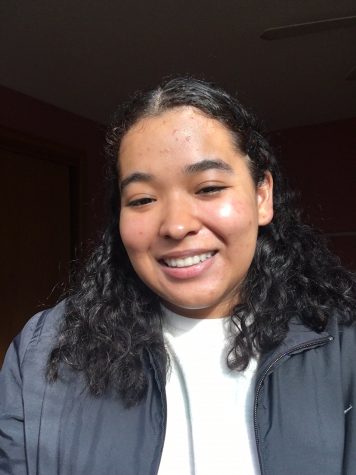 Jacqueline Lemus-Govea, Staff Writer
Jacqueline Lemus-Govea is a sophomore at Centennial High School, and this is her first year writing for The Talon. In her free time she enjoys spending...