Wrestlers Continue to Dominate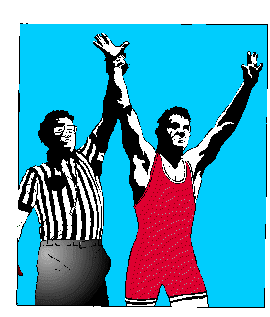 The Centennial wrestling programs latest event was the Hood River Elks Memorial Tournament  on Saturday. "We took second as a team," said Assistant Coach Roger Matthews. "We had three guys in the championship."  Emanuel Gurzhuy took second place, Riley Salazar took third, and Mason Bowles and Bailey Sparks first place. "We had a whole bunch of guys take third and fourth as well," said Mathews.  Centennial boys placed second out of 15 teams.
The girls took fourth out of eighteen teams. "No one was in the championship, but many girls took third and fourth," said Mathews.
The wrestling program hosted senior night at home against David Douglas on January 15. This was predicted to be the most attended meet in the Mount Hood Conference for the season. Varsity started at 6:30 after congratulating seniors Riley Salazar , Bailey Sparks, Gabe Steen, Connor Tolvstad, Tui Laithang and Emanuel Gurzhuy.  The boys won 49-18. 
Centennial's latest dual was January 9, against the Barlow Bruins. Centennial took first , beating the Bruins 56-15. 
Over Winter Break, Centennial hosted a 16 dual tournament called, "The Old Guys Tournament". Head Coach Ehren Schneider said, "The old guys tournament is meant to honor Hall of Fame coaches." Centennial ended up winning their own tournament. 
Girls wrestling took first against Cleveland. They had 5 girls in the finals and 2 champions at the tournament on January 4. 
The boys took 2nd as a team. Four guys were in the finals and they finished with one champion. Schneider said the tournament was quite an accomplishment. 
Here is the 2019-2020 roster, and Schneider's comments, for varsity boys wrestling.
108 Edgar Molina: "Returning district placer that is a Sophomore wrestler who has improved tremendously this year."
108 Mason Belles: "Freshman wrestler who has come to the high school at a high level and is performing well for the team."
115 Jake Angelovic "Junior wrestler who is a force in the league."
122 Jeremiah Van Cleve: "Returning District champion who is one of the top kids in the state at his weight class."
128 Tui Laithang: "Returning district champion who is a top contender in the state."
128/132 Devin Salazar: "Freshman wrestler who is performing at a very high level in his first year and is contributing to the team's success."
140 Nikita Lukyanenko: "Returning district placer who is now in the starting line up and is performing very well."
147 Jonathan Tochi: "Junior wrestler in his second year in the varsity line up that is having a very successful season."
154 Riley Salazar: " Senior wrestler and returning district placer who is on of our leaders on the team."
162 Kobe Hein: "Junior wrestler who is in his second year in the starting lineup and  an overall athlete that is helping us win duals and tournaments."
162 Jakob McMorine: "Second year wrestler who has greatly improved in his second season."
172 Conner Tolvstad: "Senior wrestler in his first year in the starting line up that brings great spirit and fight to our line up."
184 Bailey Sparks: "Senior wrestler, returning district placer and 4th place at state who is one of the top guys in the state at his weight class."
197 Gabe Steen: "Senior wrestler, retuning district placer who is having an incredible season and contributing to the success of the team."
197 Konstatine Lukyanenko: "Junior wrestler in his first year of wrestling that is performing well for the team."
222 Emanuel Gurzhuy: "Senior wrestler, retuning district placer who's wrestling style is unpredictable and fun to watch. On of the top guys in the conference."
287 Art Carrillo: "First year wrestler who is learning at a fast pace and is contributing to the team's success."