Centennial Blood Drive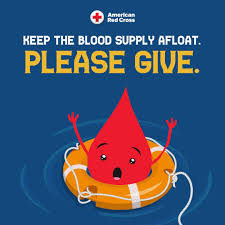 On May 4th, Centennial High School held the bi-annual Spring Blood Drive presented by the NHS and the Red Cross. Kathy Thiebes, Social Studies teacher, organized for the drive. This event was set up in the back gym with Red Cross blood buses coming in the back of the school. Inside of the gym donors saw chairs, beds where for people to lay down and tables set up to ask questions before donating. They were ready for students to come and donate.
Donating blood has many benefits. Thiebes stated " Lots of people need blood for a lot of different reasons. It could be something very tragic, like a car accident, where you would need blood, or lots of different diseases and cancers, and they need blood treatment. Some people are unaware that blood cannot be manufactured; it cannot be produced in a factory."
High schools are crucial locations for donations because this is when the concept of donating is introduced for the first time to people. The only way for those who need blood to survive is to obtain it through the unselfish donations of others. The fact that people sacrifice their own time and bodies to donate blood and save other people's lives is significant for the healthcare system. Duyen, a senior volunteering to help out with the blood drive said "volunteering is such a great way to give back to the community and especially blood drives, it's such an important part of society because we're helping somebody to save a life."
On average, 60 people donate blood at Centennial High blood drives. On May 4th, 70 people donated. The average adult has 10 pints of blood. Each donation is roughly 1 pint of blood and can save up to three lives with just one donation. That means that 210 peoples' lives could be saved on May 4th just because people wanted to help the community. A Centennial high school junior at the drive donating stated that "I just wanna help out, it doesn't hurt and it's easy."
The process of the donation here at Centennial started by signing up with Kathy Thiebes. Then when donors walked into the gym, they were greeted by volunteers. Red Cross staff called the potential donor to ask questions about health history and give a mini physical. After the questions donors go to a medical bed. When sitting or laying down comfortably, a phlebotomist (medical technician that draws the blood) will start to clean and sterilize the donor's arm. Then they inserted a 16-gauge needle into a vein near the inside bend of the elbow. The needle was connected to a blood collection bag for the blood to drain into. This lasted around 8-15 minutes. Afterward, student volunteers gave donors snacks and water while they waited 10-15 minutes before leaving.
The Red Cross also held a blood drive in December. This event happens at Centennial twice a year. People can donate blood every two months, but must wait at least 6 -12 weeks before donating again. The body will replace blood people donated within a few days and two weeks after the body will replace all the lost fluids. Keep in mind donors must be 16 years old with parent permission to donate. 17 year old students and older don't need parent permission. So keep your eyes out for opportunities to save a life.