Senior Officers Reflect Upon the Film Club's First In-Class Year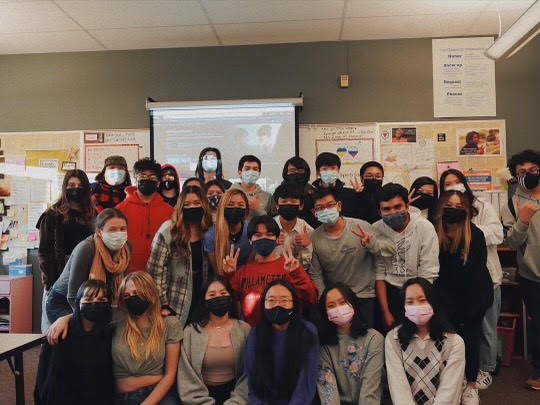 Film Club began their opening year as a physical offering after school earlier in the fall, following their initial sessions that took place over Zoom during the online era of schooling here at CHS. They made the decision to end the club's duration on their own terms in January rather than wait for the year to end. In February, they closed the year off with officer elections, setting up for the forthcoming year, and hosted their final movie night, showing the 2010s indie class, 500 Days of Summer.
"[Since] we're now in the spring, the majority of the officers are in sports," Jesse Fonseca, the past treasurer for Film Club, explained. La Tuang, the current president for the club, made the call to close the year off earlier than usual. "And that's why we had our last movie night too. So I guess I wish I would've spent more time invested in the club."
Kim Tu, the past editor for the club stated that she believed this year "improved tremendously" from last year's online sessions, mainly due to the club working better in an in-person medium. She reminisced upon the bimonthly movie showings, and mentioned the first interactive memory they had as meeting up with the club last summer, working on their short horror piece titled "Peer Vision".
"We pulled off a few movie nights, [and] we fundraised a couple of times," reflected Fonseca. "La Tuang had a goal of presenting to the Film Festival, and they put it to work with the murder mystery film, which I'm excited about."
"From what I'm aware, they're almost done with the film that they wanna present for [the] Film Festival. And there's a lot of new members, which I'm very excited about for the longevity of the club."
For the succeeding years, he hoped that they would be able to have a larger quantity of film showings, be able to produce more films, and start fundraising to gain supplementary equipment, in addition to having a larger group of attendees overall.
"I think in the future years, it'd be really cool if we submitted any of the student films towards larger competitions, out of just school competitions- to further challenge ourselves. It would also be cool to maybe go to a movie theater as a club as well. And a little collaboration with other clubs around the school too- more fun things are always welcome."
Although the original idea for this year was that the club members would divide amongst themselves to create their own groups to film, it evolved into a challenge for the club as a whole to handle. "Which is ok, this is our first year back, first year of Film Club being in person."
"Personally, I wish I could have been able to attend more of the meetings, especially because it was the last year. Over the winter, swimming really preoccupied me," said Fonseca. "So I guess I wish I would've spent more time invested in the club."
Despite the fact that moving to a physical setting showed to be an issue in some aspects, the transition offered a feeling of community and togetherness that the club wouldn't otherwise provide.
"I think about the 'humble beginnings'. When we were back online last year, and we were just starting out, we would be watching movies on Discord, trying to stream it on 123Movies. And one of our friends had to stream it, because La Tuang's Wi-Fi couldn't keep up, and it kept buffering," Fonseca fondly recalled.
Although there were sentimental moments during the introductory year, Fonseca reassured that he was more keen towards the club's system and way of doing things. Nostalgia played a key role in the way he looked back on the club during their first year.
"Because physical [meetings] just had a lot more 'vitality', people were more involved and more engaged I think. Because there's only so much that can happen online- watching a movie online with people. Whereas in person, it's kinda that feeling of 'oh, you're there with everyone.' "
"I definitely prefer a physical setting to an online one," Tu concurred. "Coming from a member's perspective it's more of an interactive club, so being able to film in person and all that's actually a large thing about Film Club."
Tu touched upon the ample roles in the club that could give everyone the opportunity to be a part of contributing to something larger. "Those are things that are hard to do online, so transitioning to in-person really opens those opportunities, and allows for friendships to flourish more."
"I've never been an actor before, to that extent," said Tu. "I've always wanted to do drama or something and try that, but never found the time to, and the commitment. So having that short time frame of being an actor is really cool. It felt really cool, it felt like I got to do something off my bucket list."
Tu related the fact that roles in Film Club are skills that can be used later in life. Examples Tu gave were that editing post-filming or the act of filming itself can help with fulfilling a school's request in the case of an assignment, or help with creating something for your family.
"Surprisingly a lot of scholarships ask you to submit a video instead of an essay, so having that skill is very useful."
"If anyone's interested in the club, honestly just pop in," said Fonseca. "Everyone's really welcoming and, I mean, what can go wrong? You're gonna join a bunch of people who love watching movies, catch a couple movies that you like, and maybe even just discover new genres."
Fonseca continued to list films the club viewed as a group that he wouldn't have heard of otherwise, such as Snowpiercer and 500 Days of Summer. One that stood out to him in particular was Parasite, which he cited as his third favorite film in his dedicated Instagram post on the Film Club account a couple months ago. Encanto and Demon Slayer: Mugen Train were his first and second, respectively. "Anyone who just wants that experience and wants to hang out with people, just try Film Club."
"I think having people wanting to continue Film Club indicates a good outlook for the future of the club," said Fonseca, regarding the results for next year's officers. "I'm actually really excited. I know the editor, Alivia, and treasurer, Duyen pretty well. And I know that they'll definitely try to keep up. Even this year, they were showing a lot of initiative. And Alivia made a pretty good showing of her editing skills on her slideshow, so it definitely shows her coming into the role."
"For Lusia, she's not an incoming senior, therefore she has more time to further develop her goals, and continue on for Film Club," Tu said. "And obviously La Tuang has a lot of experience being president. So I think they're all good officer roles."
"It's kinda fun that a freshman made it all the way up to VP," continued Fonseca. "And everyone who's stepped into their roles seem pretty excited, and ready to take initiative with it, so I'm happy with the hands that we're passing the club to."