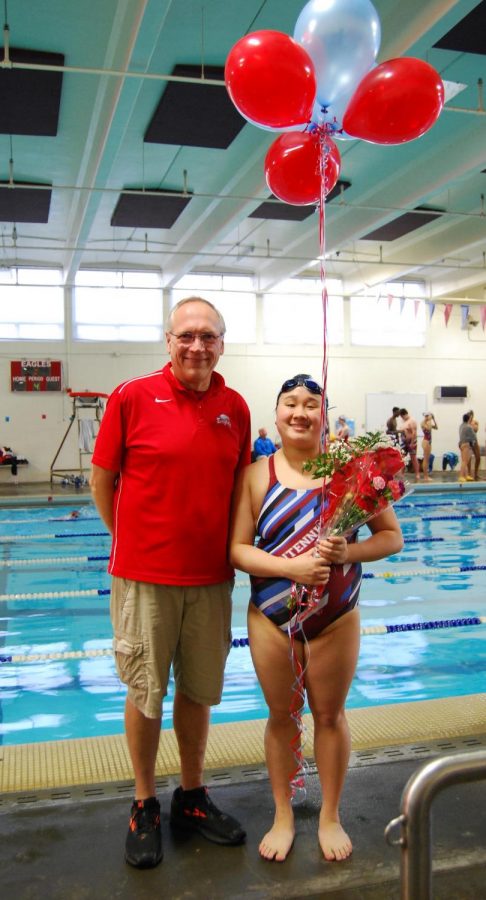 Tony Hart
1. Team Scores
Centennial High School scored 7th for both Men and Women Team Scores
2. 200 Yard Medley Relay
In the women's relay, Centennial High School scored 5th with a time of 2:27.10. Their team consisted of Amy Hua, Mady Gabriel, Kim Tu, and Olivia Schloth
In the men's relay Centennial High School was disqualified. Their team consisted of Devan Oliphant, Taz Larson, Kyle Cook, and Kit Bishop
3. 200 Yard Freestyle
For the Women's race, the highest placed CHS swimmer was Amy Hua in 5th with a final time of  2:15.09
For the Men's race, Taz Larson scored 3rd with a final time of 1:56.92. Devan Oliphant was close behind in 4th with a final time of 1:57.67
4. 200 Yard IM
Mady Gabriel, 16th, was the highest scoring CHS female swimmer with a time of 2:59.86
For males, Kyle Cook scored 9th with a final time of 2:25.92
5. 50 Yard Freestyle
Olivia Schloth got 18th place for CHS with a time of 32.27
Kit Bishop finished in the 12th spot with a time of 26.01
6. 100 Yard Butterfly
Kylie Kue scored 9th for CHS with a time of 1:17.48
With a time of 1:07.07, Kyle Cook achieved the 16th spot
7. 100 Yard Freestyle
In the 18th spot, Olivia Schloth finished with a time of 1:13.76. Right behind her is Becca Crosse with later time of 1:15.78.
Devan Oliphant achieved 7th  with a final time of 53.79.
8. 500 Yard Freestyle
Amy Hua scored 8th for CHS with a final time of 6:04.88.
Finishing 3rd, Taz Larson had a final time of 5:13.12.
9. 200 Yard Freestyle Relay
Centennial High School's female relay team finished 8th with a time of 2:02.41. The team consisted of Olivia Schloth, Kylie Kue, Amy Hua, and Mady Gabriel.
Centennial's male relay team also finished 8th with a final time of 1:58.44. This team included Alex Lund, Oscar Reyes, Dayton Foss, and Alvaro Carreiro Sanchez.
10. 100 Yard Backstroke
In this race, Kylie Kue finished with a time of 1:17.14, scoring 10th for CHS.
Dayton Foss, with a time of  1:19.05, finished 20th for CHS.
11. 100 Yard Breaststroke
For the women, no swimmers made the top 20. Kim Tu was Disqualified.
For the men, Alvaro Carreiro Sanchez was placed at 13th with a time of 1:18.89.
12. 400 Yard Freestyle Relay
In this race, Centennial's female team scored 7th with a time of 5:03.11. This team consisted of Kylie Kue, Kim Tu, Becca Crosse, and Irina Borovskiy.
Centennial's male team – Kyle Cook, Kit Bishop, Devan Oliphant, and Taz Larson – scored 6th with a time of 3:46.65.
While Centennial High School might not have performed as well as people had hoped, the swimming coach was able to find goodness out of this season. Coach Rod Lundgren stated that this was a "rebuilding year," since losing so many seniors last year. Additionally, Coach Lundgren was happy to discover so many freshmen who are already able to compete at the Varsity level.